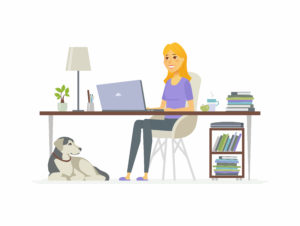 Today, I am excited to share with you an interview with one of my former clients who successfully transitioned into the field of Utilization Management. It just so happens that when I was preparing this blog, the company informed me that they are actively recruiting more physicians! So if you like what you hear from Dr. Susan Brister, you might be able to follow in her footsteps!
Susan Brister, MD, is a Board-Certified Internist who was working long hours seeing Medicare patients in the clinic setting when we met. She began a 6-month coaching program in March 2017 and landed her new job in Utilization Management right at the end of the 6 months.
Q: What made you decide to consider a non-clinical career?
Dr. Susan: Work had taken over my life. I realized I was not only neglecting myself but especially my aging parents. My father was ill and ended up dying before I transitioned. Any free time I had, I was traveling to be with him. There was no time for a healthy diet, rest, or exercise. Sometimes I was working up to 70 hours a week with all the charting.
Q: How did you decide what non-clinical career to transition into?
Dr. Susan: That was a very difficult decision. Being doctors, we want to know what we are getting into. The unknown is uncomfortable. It was unsettling to think about going into a new field and not knowing how much I would miss patients. At first, it was overwhelming. It helped me to read your blogs and see some of the options out there. Then when we did the coaching together, I gained more clarity on my preferences. Having the chance to speak with other clients of yours who had transitioned into different non-clinical areas was especially helpful.
Q: What kind of company are you working for?
Dr. Susan: The company is called an Independent Review Organization (IRO) and they do third-party reviews for health insurance plans. When claims are denied, they come to us for independent review. A lot of what we do is evaluate for medical necessity and whether or not the desired medication, treatment, or procedure meets appropriate criteria based on guidelines and current practices.
Q: Can you share some more specifics about your work?
Dr. Susan: Sure. I am on a team with a team lead and 3 other physicians. We get along very well and I like the camaraderie and support. My team lead is fabulous. When we start our day, we check our "queue" to pick up the most urgent cases. We also review the reviews from the external specialists, such as cardiologists and endocrinologists. These reviews can be quite complex. There is a good balance between cases that are very straight-forward and those that are complex. I am always learning about unusual diagnoses and new and novel treatments.
Q: What is your work schedule like?
Dr. Susan: I have the choice of either working five 8-hour days or four 10-hour days. I am doing a mix right now. Every month I cover a weekend shift and then have days off during the week.
Q: How is it working remotely?
Dr. Susan: The number one rule is to get up, exercise, take a shower and get dressed. No working in your pj's! A lot of people warned me about that. It was really important for me to set up a home office. With all the time I spend on the computer, I wanted to have an ergonomic keyboard and chair. I actually use a kneeling chair. I have to be careful what I have in the fridge, as it is too easy to walk over and grab something.
Q: What else do you like about your job?
Dr. Susan: I like working for an IRO because there is no pressure to deny claims. We are not the insurer. I enjoy the variety of cases and using my clinical knowledge. I am always learning about unusual diagnoses and new and novel treatments. There is always some degree of challenge.
Q: How often do you do peer-to-peer calls?
Dr. Susan: I do anywhere from 1–8 peer-to-peer calls a day, with an average of 2 calls per day. 50-60% of the doctors I speak with are grateful. They are usually busy primary care physicians. They often don't know how to get certain things approved and are grateful when I can help. Most of the others are at least polite. About 1% are irritated. I approach them by saying, "Here is the case. How can I help you?" I focus on the policies and specific criteria for approval. I can also ask my team lead for suggestions on a peer-to-peer call.
Q: Do you miss clinical practice? Can you imagine going back?
Dr. Susan: If I went back, it would be to do some occasional volunteer work. I am enjoying my life as it is.
Q: What kind of physician might enjoy this work?
Dr. Susan: Someone who is very detailed oriented and comfortable working on a computer. You must absolutely be self-motivated. Be ready to be a learner again. You also need to be transparent. If you stop to change the laundry for 10 minutes, you need to make up that time.
Q: Any tips for doctors considering this area of Utilization Management?
Dr. Susan: You can try some chart review as an independent contractor first to evaluate your interest level. Then find a company where the physicians are happy. See if the company is focusing on what the patient needs, versus what the insurer wants.
Q: Any last thoughts?
Dr. Susan: Last Christmas, after starting my new job, I was with my extended family at our vacation home and I noticed my brother was missing. Then I discovered he had disappeared to work on his computer. And it hit me; I don't have to do that anymore!
If you are interested in being a Medical Director for this company like Dr. Susan, the basic requirements are:
Board Certification
Active State Licensure
5 years of clinical practice experience (residency counts)
Preferred specialties:  Internal Medicine and subspecialties, Family Practice, Psychiatry, and Sleep Medicine.
Update as of 7/3/18 – The company is no longer taking applicants due to significant interest. When they are hiring again I will update the post.
My sincere thanks to Dr. Susan Brister for granting this interview!
Find what you're looking for: