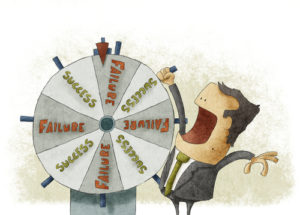 Today, the hot topic is failure. It's timely, because I just failed in writing a blog. I've been working on a blog for two weeks that was supposed to be posted already, but it flopped. I could say it was a failure, or I'm a failure. Or I could just say that it didn't work out.
I love this topic of failure, because I know how a fear of failure can really limit us. However, when we reframe failure, a world of possibility can open up.
I was afraid of learning partner dancing after a mortifying experience on the dance floor at a wedding. Even though I secretly really wanted to learn to dance, I avoided it for years, even decades. I was afraid I would be a failure. When I finally got the courage to take a dance class, it was a real shocker when I didn't die and I didn't whack my partner in the face (Lol – that came later!). The world was still spinning, and this thing I was so fearful of was actually rather fun. And dance did open up a whole new world for me.
My father, who was a successful research physicist, helped me find a way to reframe failure. When I told him about something that I thought I had failed at, he said, "You know, that just didn't work out for you. You can see it as a failure if you want to, but as a researcher, I have to look at countless experiments that don't work and see what to do differently."
I think my father may have been channeling Thomas Edison when he gave me that advice. Edison famously quipped, "I have not failed. I've just found 10,000 ways that won't work."
My father's words really helped take the sting of my "failure" away. It's not hard to go from failing at something to feeling like a failure to even proclaiming oneself as a failure. The phrase "it didn't work out" is "failure neutral." The overlay of judgment is gone, and there's a free space in which to look objectively at what happened and learn from it. In this way, a "failure" can actually make success more likely, if we use the information as material to build something stronger going forward. If we let the shaming side of failure have its way with us, it will stick us with a surrender flag, drag us into a cave, and seal us in with a heavy rock.
When we're working on a career transition, this fear of failure can keep us stuck in that cave or scurrying back to it. How do we apply this reframe on failure to have the confidence to grab our spear and join the hunt?
One answer to this question comes down to choosing our mindset. In her book Mindset: The New Psychology of Success, Psychologist Carol Dweck introduces the Fixed Mindset and the Growth Mindset. In the Fixed Mindset, we find safety in the status quo and avoid situations that make us feel vulnerable or could involve perceived "failure." In the Growth Mindset, we seek out and are energized by opportunities that allow us to learn and grow as individuals.
How might these mindsets show up in the career transition process?
The Fixed Mindset Approach:
Stay with what you know, it's risky to try something new
If you try something new, you could fail
If you apply for jobs, you could get rejected
If you change things up, you could be worse off
You don't have the skills to do something new
The Growth Mindset Approach:
I'm curious to see what else I'm capable of
If something fails to work out, at least I know I tried
If I get rejected, that's part of the process, and I'll learn from it
I won't know how things could be better unless I try new things
I'm a lifelong learner and I can learn new skills
With the growth mindset, we're able to reframe "failure" as a normal and essential part of life and learning. When something fails to work out, it's really just neutral feedback designed to give us helpful information. We actually have a tool in failure that helps us be more precise going forward, rather than letting failure become a wet blanket that snuffs out any spark of hope.
Winston Churchill captured this growth mindset when he stated, "Success isn't final, failure isn't fatal, it's the courage to continue that counts." Churchill knew intimately both great success and failure.
In our extensive learning process to become physicians, we were in a growth mindset. This mindset took us from not even knowing how to examine a patient to being able to care for very ill patients and save lives (that's pretty cool!). The growth mindset doesn't have to end when our training program ends; we can keep it as a way of life. When we see ourselves as learners, we give ourselves more permission to not have to be perfect and to not have to do everything right. In this approach, life becomes more of a grand experiment rather than a final exam.
You are never a failure for trying something that doesn't work out. Whatever you try to do, you will have some new information about yourself, as well as an experience you would never have had otherwise. You get to interpret what that experience ends up being for you. And this goes for the past, as well as the present.
When we look at our experiences with the eye of the learner rather than the judge, we have the chance to be in awe of the truth of who we really are. From this place, we are more able to step out of our comfort zone because we realize who we are is not defined by what happens to us, but how we respond to what life gives us.
Bring it on, Life!!
A special thank you to Dr. Vanessa Vidal for first telling me about the Mindset book by Carol Dweck. 
Find what you're looking for: