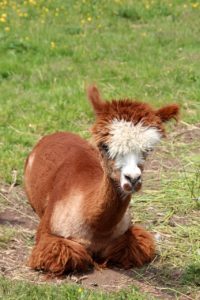 Time for a Pop-Quiz!
What non-clinical job sector allows you to use your clinical knowledge, never involves denial of care, and is so enjoyable many of the medical directors stay on into their white-haired years?
A) Drug Safety
B) Disability and Worker's Comp
C) Life Insurance
D) Medical Writing
E) Llama farming

If you guessed "C– Life Insurance," you are correct!
(If you guessed "E– Llama Farming," you get partial credit for out-of-the-box thinking.)
Life Insurance Medicine is a gem of a non-clinical career that's often overlooked because of the mistaken belief that this job involves selling life insurance.
In actuality, as a medical director, you would be using your hard-earned medical knowledge to assess mortality risk from patients' medical records. You would likely be involved with some teaching of the staff as well as some other duties. Jobs are both on-site as well as remote, or a combination of the two.
For this blog, I had the pleasure of consulting with three wonderful physicians I met at the 2016 American Association of Insurance Medicine. They were kind enough to answer my questions so I could give you the insider's perspective.
To find out about the day-to-day work in Life Insurance Medicine, I queried Dr. John Kirkpatrick, Vice President and Senior Medical Director at Thrivent. He shared the following:
"Reviewing medical records and researching topics is a pretty typical day. My day has a great amount of flexibility. As long as the work gets done, I can pretty much pick the hours I wish. I prefer to start at 7 or 7:30 am. I really enjoy learning and reading about such a wide variety of medical conditions. The topics range from inherited conditions to cancer survival data. It is fun to have the time to read and learn so much every day. In practice, it was always necessary to read a lot, but it was inevitably after clinic or at night."
As an internist before transitioning into Life Insurance 25 years ago, Kirkpatrick appreciates the more predictable schedule in his current role. He went on to say, "Of course it is nice to be able to go home on time, to make every kids' ball game, and to never be on call. It helps to have more peaceful days. Knowing that I will always be home for supper, always have weekends off, and never have the ER call in the night has been amazing!"
Is anyone excited by the thought of no call and no weekends?
If you are wondering what it takes to get into Life Insurance, Dr. John White III, Senior VP and Medical Director for American National Insurance Company, as well as current president of the American Association of Insurance Medicine (AAIM), gives this advice:
"One of the first things to do is to contemplate the likelihood you would enjoy being a life insurance medical director. The first step (in my mind at least) would be to attend some of the meetings to see what we do. The upcoming AAIM conference will allow you to see what interests us (diseases and treatments in terms of implications for mortality) and will also allow you time for networking and fact-finding. I think attendees will find our group friendly and non-threatening."
White went on to add these additional recommendations:
For the latest on opportunities, I interviewed cardiologist Dr. Judy Finney, medical director at Allstate and a frequent speaker at SEAK conferences. She willingly offered her perspective:
"I do see opportunities in Life Insurance Medicine in the future but they might be changing in scope.  Previously primary care physicians were sought after primarily for one-on-one responses to underwriters on individual life insurance medical files assessing mortality risk as their main job. This is still true but it's not the sole job any longer. I expect about 1/3 of the current medical directors will likely retire in the next 3-5 years and forecast that might mean 80-100 positions available." (Wow!)
"However this industry is also undergoing some contracting from automated underwriting and 'black box algorithms' using large data sets (both medical and nonmedical) and from companies buying each other up. It does take some preparation to make oneself desirable to the industry. So a rapid leap from clinical to Life Insurance Medicine is neither easy nor highly likely. Understanding some actuarial statistics and the use of 'big data' would make any candidate stand out from the crowd."
For those of you who are wondering, "Could I get hired?" here are some basic requirements:
Board Certification
Active Licensure
Clinical practice of at least 5 years post-residency
As far as the ideal specialty, White, who is a surgeon, says, "I believe that those physicians trained in primary care are likely the best candidates because of the broader perspective they have on medicine in general, although this skill can be learned by any physician with practice experience, provided they are willing to put in the time and energy to learn a different perspective. Once a medical director gains experience in risk selection, and as they progress in their career, additional duties will be required…The benefit is that we are always intellectually stimulated."
If all this is sounding compelling, and you might want to be one of those 80 to 100 new medical directors, the next AAIM conference is going to be October 13–18, 2018 in Seattle, WA. The agenda is not yet available, but you can peruse the one from 2017 by clicking here.
A big thank you to my most generous consultants who provided their experience and insights for the blog. I'll never forget our time together at the 2016 AAIM conference in Austin, TX, with the armadillo races, live band, and a lot of white-haired medical directors dancing like college kids.
Find what you're looking for: