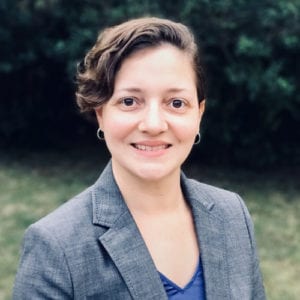 It's a very exciting day because our OB/Gyn physician, "Dr. Gigi" reveals her identity and her new career direction! If you've been following along, a little over a year ago "Dr. Gigi" kindly agreed to share her career transition with us in real time. In the initial post, she told us she was considering a second residency as well as a variety of nonclinical options. In her post from last September, she had narrowed down her direction to two choices.
Today, she not only tells us what her new nonclinical career is, but…….
Drum roll………
She also reveals her true identity!
"Dr. Gigi" is none other than the wonderful Dr. Xiomara Santos! Please read on to hear her update.
Q: What's happened since last September with your interests in informatics and medical writing?
Dr. Santos: A lot has happened. I'm now working as a freelance medical writer! The pivotal moment came when I was watching a webinar on being a freelance medical writer by Dr. Emma Nichols.
When she described the ideal personality traits to be successful in the field (detail-oriented, analytical, ability to work alone, organized, etc.) I felt as if she was talking about me. Honestly, I got chills. All of my "must-haves" for my ideal job were on the list. I enrolled in her 6-week course and then decided to start my own freelance medical writing company.
Q: How was the freelance medical writing course?
Dr. Santos: The course was a great resource, covering all the aspects of working as a freelance medical writer, including how to run a freelance business, set up a website, reach clients, etc. In addition, it included feedback modules (which do require time), where you submit writing assignments and receive feedback. Besides learning from her feedback, the modules were very helpful in understanding how to approach the common types of projects in the field.
Q: What happened after the course?
Dr. Santos: I was fortunate to have the opportunity to work on projects with Emma's company. I continue to receive work from her. Having this experience gave me the confidence to reach out to other clients. I guess you could say I'm biased towards the course, I think it was completely worth it, and it played a key role in what I'm doing today.
Q: What do you like about being a freelance medical writer?
Dr. Santos: I believe in playing to your strengths and I feel that's what I'm doing with this type of work. Being an introvert, I prefer (and I'm better at) working independently. Other strengths and skills needed in this field, such as being detail-oriented, analytical, and able to concentrate for long periods of time, are skills that I'm good at and enjoy.
I like that I get to research different medical specialty areas and learn about the latest advances in the field. And I like having control of my schedule. As long as I submit a project by the deadline, how I organize my days is completely up to me. What a change from practice!
Q: What's challenging about being a freelance medical writer?
Dr. Santos: Finding the balance between too much work and little work can be challenging. You don't want to turn down projects, but you also don't want to commit to a project you can't complete on time.
Reaching out to potential new clients can be challenging because of the time involved in researching and creating a contact list.
This is not necessarily a challenge but I should mention that it is not "relaxing" work. It requires intense concentration and can be mentally exhausting when working on something for several hours. Also, some projects sometimes take longer than anticipated and you might have to work long hours to meet a deadline.
Q: Do you miss clinical medicine?
Dr. Santos: I miss discussing cases with my colleagues and communicating with them in general. I do not miss being in clinic. However, while I'm happier doing what I'm doing now, and I cannot picture myself happily practicing medicine, feelings of guilt still resurface from time to time… but not enough to make me want to go back.
Q: Any advice for physicians interested in medical writing?
Dr. Santos: In the past, I was sort of interested in medical writing but I was hesitant because I wasn't sure if it was a good fit for me. But then I realized I didn't really know the full scope of the field. So, I encourage anyone with even a slight interest to learn more about it.
Medical writing has different areas and so far, my focus has been in the educational area, which includes CME and other content for a clinician audience. The website for the American Medical Writers Association has a lot of resources regarding all types of medical writing, including a new medical writer toolkit.
If you're interested in medical writing as a freelancer and want to learn more, you can watch the free webinar by Emma that clinched it for me.
Q: Any advice for physicians considering a transition?
Dr. Santos: Be honest with yourself and keep an open mind. Learn about your Enneagram personality type. Instead of asking yourself if you could make yourself fit the jobs that you've heard of, ask yourself what type of ideal jobs fit you, and start from there.
Thank you so much, Santos, for being an intrepid member of the career transition posse! I greatly appreciate your participation and candor.
If anyone would like an overview of medical writing, you can take a short online course for $89 through the University of Wisconsin. This can help you decide if Emma's course could be right for you.
Tomorrow (Thursday) I'll be sending out the survey results on the future of The Doctor's Crossing. Whoo hoo!!!
Stay tuned for the next blog on May 29th with a special guest whose voice you may be familiar with! Hint.. his initials are "JJ"
Heather
I do not have any financial affiliations with Emma Nichols or her course.
Find what you're looking for: