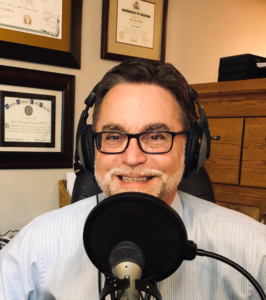 Do you want to know what kind of nonclinical jobs are out there?
Would you love an insider's peek into the day-to-day work of a nonclinical physician?
Are you unsure what steps to take to make a change?
Then look no further than the  Physician Nonclinical Careers Podcast!
Today I'm interviewing the man behind this great podcast, none other than Dr. John Jurica – physician executive, blogger, podcaster, and now course creator!
John Jurica is a very accomplished yet down-to-earth family practice physician who's held a number of different leadership roles, including VP of Medical Affairs and CMO. He stays clinically active working in urgent care, but recently he's been quite busy creating nonclinical resources for physicians.
I could go on and on, but let's dive into the interview…….
Q: How did the Physician Nonclinical Careers Podcast come about?
Dr. John: I was writing a blog based on my experiences as a hospital chief medical officer. The blog is called Vital Physician Executive. I wanted to try something new, and I really enjoyed listening to podcasts. It is one of my favorite ways to be inspired and to learn.
There are about 200 million blogs but less than 1 million podcasts. The average listener completes over 80% of a podcast episode, while blog readers and video watchers often drop off in under 2 minutes.
At the same time I wanted to know more about other nonclinical careers.  Producing a podcast with interviews seemed like a great way to learn and build my expertise as I helped my listeners.
Q: What was it like learning how to podcast?
Dr. John: I read everything I could using free online resources but ultimately decided to purchase a course to speed up the process.
I became excited about the prospect of producing the show. I knew it would be a great learning process, and that there would be physicians interested in hearing about career change.  I was also encouraged by finding several other physician-hosted podcasts.
However, I was anxious about the interviews, because I'm an introvert at heart.
Q: What is the hardest part about podcasting for you?
Dr. John: The technical aspects were a challenge at first. But the bigger challenge was putting myself out there and doing the interviews well. Finding and contacting guests, preparing for interviews, and making them engaging are more challenging than the technical aspects. But it gets easier with practice.
Q: What has been something unexpected to come from your podcasting?
Dr. John: One unexpected aspect is that I found it to be an awesome way to network and make new friends. I meet so many interesting and bright physicians willing to freely share advice and inspiration.
Q: What common themes do you see in the interviews you do?
Dr. John: There are several themes I've noticed:
People love to share their stories.
Many guests had to overcome a fear of failure or the belief that they don't have transferable skills.
Mentors, coaches, and networking are important.
Balancing patient care with a fulfilling nonclinical sideline can eliminate burnout.
Q: What have been some of your most popular podcasts?
Dr. John: My top three episodes are interviews. My conversation with Dr. William Lynagh in Episode 46  really struck a chord. He had been a consultant with the Advisory Board and recently taken a sabbatical. He recounted how he made career choices during his long career.
In Episode 61, Dr. Dana Carpenter described how she made her way from full- time obstetrics and gynecology to medical communications, a career she loved.
And Dr. Peter Steinberg shared in Episode 53 how he integrated lucrative work as an expert witness into his full-time urology practice.
Q: What are some things you learned about physician transition from your interviews?
Dr. John: I've learned that every story is unique. Some career transitions are very quick. Others take years to complete. Some are quite intentional, while others seem totally serendipitous. Some physicians make a clean break from patient care, while others continue to do clinical work indefinitely.
I've learned that there are many ways to use one's skills, make a good living, and find joy in a career.
I've also learned that there's lots of help out there. There are Facebook groups, coaches, courses, mentors, and organizations that can help physicians.
Q: Do you have any specific advice for physicians wanting to leave medicine?
Dr. John: Write down what your perfect week might look like. What is the balance of work, family, hobbies, etc., that you'd like to achieve?
Then list what you don't like about what you're doing now. Strongly consider whether you truly need to leave medicine to achieve what you want. Sometimes you simply need to leave your current employer.
If you decide you need to leave medicine, then come up with a plan. That plan should involve steps such as using resources like this blog, my podcast, Facebook groups, and books to research nonclinical careers. Then select one or two potential careers, and join a professional organization and a find mentor for each.
Consider engaging a career or life coach. And create a complete LinkedIn profile. If you're anxious to leave your current job, but are not prepared for a new career, consider a temporary telemedicine or locum tenens job.
Q: You also are creating a course about becoming a Medical Science Liaison (MSL). How's that going?
Dr. John: Course creation is more challenging than writing a blog post or producing the podcast, but I'm enjoying the process.
Note: John's full course, How to Secure a Career as a Medical Science Liaison, has just been released. If you'd like to check out a free mini-course based on the paid course, called Top Resources for Landing an MSL Job, you can access it here.
Q: Are there other plans in the pipeline?
Dr. John: I'm developing my Nonclinical Career Academy. The MSL course is the first to be hosted there. I'll be adding additional courses over time.
I plan to revamp my website to add more resources for listeners and readers and I'm also going to be adding short solo episodes to the podcast.
Q: Is there anything else you would like to let the readers know?
Dr. John: You have talents and skills that are extremely valuable. Don't sell yourself short. You're entitled to have a balanced, joyful life. And that includes your career.  So, have faith, get help if you need it, and create a life that's joyful and fulfilling.
A big Texas-sized thank you to Dr. John Jurica for creating a great podcast and for doing this interview with me. 
Since I just returned from my "baby" brother's wedding, I'm going to use some marriage and dating analogies in my next blog (June 19th) to address some common stumbling blocks in career change! Whoo hoo!
Be back soon!
Heather
Find what you're looking for: