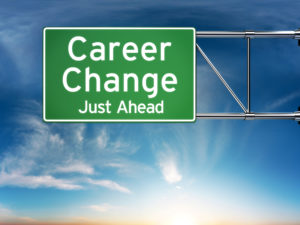 I'm super excited to introduce to you our first ever Doctor's Crossing Career Transition Posse! The Transition Posse is composed of several of my intrepid clients who have graciously agreed to share their career transitions with you in real time.
It's not easy to open up that Pandora's box and ask that million-dollar question, "Is medicine the right path for me?"
It can be even scarier when we decide to give notice without a plan B. But this is precisely what these physicians have done. Each physician recently gave notice without knowing what's next.
What?!!
Leave medicine without a plan B? What are they thinking? Quick – someone call their parents! Are they C-R-A Z-Y?
Having done the same thing myself over a decade ago, in my humble opinion, no, they are not C-R-A-Z-Y. Mom, Dad, if you are reading this, did you think I was crazy?
There are many ways to do a career transition, some definitely are not ideal, but there is no one right way. Many of my clients had a new job lined up before they exited stage left. They had a plan B and plan B worked. Financial considerations and family obligations can put the pressure on us stay in a job until we have a plan B.
But sometimes work is so darn demanding and stressful that, in spite of our best efforts, we can't figure out a plan B. Or maybe we don't want to jump into something right away; we need some time and space to explore options. That can actually be a plan. I call it the "Safari Plan," as safaris are journeys taken with purpose, having the goal of exploring the wild or unknown. When people ask what you're doing, you just tell them, "I'm on safari."
One of my intentions in sharing the Transition Posse with you is to show that leaving your job without a new career path lined up can be a viable option.  We have much to learn from these daring doctors who are embracing uncertainty and letting us ride alongside them.
And now, I would like to begin with our first Transition Posse member, Dr. Gigi. (We are not using real names to protect the physicians' privacy, but they will have a chance to reveal their identities when their transitions are complete, if they so desire).
What would you like us to know about you?
My name is Dr. Gigi. I'm an OB/GYN physician, previously in an academic setting, now working for a community hospital. Becoming a physician has been my lifelong goal.
What made you decide to consider changing your career path?
After I completed training and started working as an attending, I had moments of feeling "Is this it? What's next?" I didn't know if that was because my whole life had followed a predictable path and there was always a next step. As time went by I realized that I was just not happy at work – I did not find it intellectually stimulating, the daily tasks of clinical practice were exhausting (busy clinic, phone calls, EHR, backup call, too many intense patient interactions, etc.), and the whole experience was not how I thought practicing medicine would be. In addition, I felt that I was constantly letting my patients down by not meeting their expectations. I did online research into physicians leaving clinical practice and realized that I was not the only one and that there were many nonclinical options I could explore.
Is clinical practice still an option? Why or why not?
I would say yes simply because anything is possible and you don't know what the future holds. I have always wanted to be a doctor and I love medicine in general. However, at this moment it is difficult for me to envision a clinical setting that I would find tolerable. As I realized things about my personality it became clear that the typical OB/GYN practice is not the best fit for me- and I'm not the best fit for it.

What are some career options you're exploring?
I'm currently deciding between staying in medicine/switching specialties (which would require going through a different residency) versus leaving the full-time practice of medicine. I'm exploring doing telemedicine part-time, chart reviews, and part-time opportunities in utilization management. I'm also exploring medical writing and informatics.
What is it like to be in this place of uncertainty while you're figuring your career out?
It is scary at times to think that in a few months I'll be without a job or any guarantee that I'll be readily getting a different job. Also, it's scary to think what if I change my mind, how easy/difficult would it be to go back? The feeling of uncertainty sometimes causes me some anxiety because I am not used to it. On the other hand, it is exciting to feel that I am giving myself a second chance at getting my career right. I am excited about the future possibilities.
On a scale of 0 – 10, with 10 feeling very confident, how confident are you at this time that this process will work out?
I would give it an 8. I feel that I'm doing the right thing by making a change if I'm unhappy with the current situation. I feel I can't go wrong by trying to be happy. I don't give it a 10 at this time because while I know by the end of this process I'll be at a better place than where I am now, I'm still not 100% confident that I'll be able to find a career path that is as fulfilling as I would like.

Anything else you would like to share?
If you had asked me 6 months ago how I felt about practicing medicine, I would have said that it was not how I thought it would be but I signed up for it many years ago, there's nothing I can do about it, and it would be crazy for me to leave medicine.
This has not been an easy process so far- it was a struggle for me to decide to leave my job. I felt guilty about considering leaving medicine. I felt that I owed it to society, to my patients, and to my younger self to continue practicing. There were many sleepless nights as I struggled with my guilt and with the reality of my daily unhappiness at work. I am glad I decided to be honest with myself and make the conscious decision to try and be happy. No one else was going to do it for me.
It takes a lot of courage to make a major career change, and even more to put yourself out there in the public eye. A deep bow of appreciation and gratitude to Dr. Gigi and the other posse members. We will be cheering you on and supporting you through this process.
In two weeks, on Wednesday, April 4, the blog will feature our second member of the Transition Posse, Dr. Gabriel. Stay tuned!
Find what you're looking for: