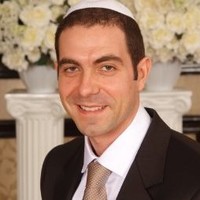 Today I have the pleasure of introducing Dr. Tzvi Doron, a family practice physician who transitioned into a dynamic role in a telehealth start-up – only two years post-residency.
When we think of jobs in telehealth, we may assume that this means solely providing patient care. However, in Dr. Doron's case, his position started with 50% patient care and has grown into a primarily nonclinical role.
If you're looking into nonclinical jobs, take time to understand what you might be able to do beyond an entry-level position. There's often more diversity and growth potential in a company as you advance than what you can see peeking through the window.
Now to the interview!
Q: Can you tell us a little about the work you do?
Dr. Tzvi Doron: The work that I do now is challenging, exciting, and always changing. I wear two hats as SVP of Clinical Practice and Education and President of one of our affiliated telehealth physician practices.
As President of a physician telehealth practice, I am responsible for interviewing and hiring new physicians, establishing and enforcing practice standards, and providing support to the physicians and patients.
In my SVP role, I oversee medical content creation and review to ensure that all public-facing information is medically accurate and up-to-date. I also work with the Product Team to provide a medical perspective to improve the patient and physician experience on our platform.
Q: Did you imagine you'd be doing something like this when you were in residency?
Dr. Tzvi Doron: During residency, I never imagined doing anything like this. I assumed I would work in primary care or as a hospitalist, neither of which was what I wanted long term. I simply wasn't aware of all the options out there for physicians.
Q: What was your experience like in patient care?
Dr. Tzvi Doron: I worked for two years as a primary care doctor in a FQHC. Most of my patients were low-income and had no health insurance. Many struggled with addiction and mental illness. While helping my patients was rewarding, I was fully confronted by the problems in our healthcare system and decided I wanted to create change at the structural level. That's when I found my current position.
Q: How did you find this opportunity?
Dr. Tzvi Doron: It was a stroke of luck! I had been looking for a unique opportunity in the healthcare space, and I came across an ad for a medical director of this telehealth company on Indeed. I applied and flew down to interview in less than a week. When I met the founders, their vision for a telehealth platform that would make it easy to access quality, affordable care resonated with me. I knew I wanted to work with them to revolutionize the delivery of healthcare.
Q: Was it hard to find a non-clinical job? Did you do a lot of networking?
Dr. Tzvi Doron: I got extremely lucky, but I think networking is a great idea for physicians looking for non-clinical positions. There are so many opportunities out there that you just won't hear about if you do conventional physician job searches.
There is a whole wave of new health tech companies out there looking to those in the medical community for help. If you are unsure if full-time clinical work is for you, dig into your existing network. The opportunities are out there, you just need to look for them.
Q: What skill sets are you using on the job?
Dr. Tzvi Doron: With respect to my nonclinical work, one of the most important skills I use today that I learned through medical training is synthesizing a lot of information and applying it to a given situation. The only difference is the setting and how I use the information. In clinical practice, I synthesize practice guidelines along with basic science knowledge to help my patients. In my nonclinical work, I synthesize information and use it to help educate others, whether by creating medical content or teaching people in the company without medical training, such as designers, engineers, marketers, and more.
Q: What are some of the things you especially like about your job?
Dr. Tzvi Doron: I work with an incredibly talented group of people and I get to write a lot, which is something I love to do. Learning about the different aspects of business in the fast-paced startup world is something I never would have had the opportunity to do in a traditional practice setting. But the thing I like most of all is that I get to help many more people than I would ever have been able to in a traditional practice.
Q: What are some of the things you find challenging about your job?
Dr. Tzvi Doron: Working at a startup means rapid change, which is something that you don't often encounter in a clinical setting. In addition to relatively minor things that come up all the time, company initiatives can sometimes evolve quickly, which require me to be flexible.
Q: What type of physicians work in this company?
Dr. Tzvi Doron: We employ physicians in a few nonclinical roles. We have two clinical directors to give input from a medical perspective on content and product development. We also recently brought on a physician in a medical writer role. Our Quality and Safety Manager is also a physician.
I spend a lot of time with the physicians within the telehealth practice I lead. Most of them have been trained in internal medicine, family medicine, and emergency medicine, which gives them a broad understanding of general medicine. We look for people who want to help more patients while being on the cutting edge of the future of healthcare delivery. For the right person, it's a great opportunity to start a non-traditional practice.
Q: Do you have any advice for physicians looking to transition to a nonclinical career?
Dr. Tzvi Doron: The most important thing is to realize that there are other options besides traditional clinical practice. My advice is to network and use resources such as docjobs.com and nomadhealth.com and others that specifically cater to doctors interested in non-traditional careers. There are also physician Facebook groups that are geared specifically for this goal.
Q: What has surprised you the most in your journey from medical student to this start-up company?
Dr. Tzvi Doron: I never imagined being in this kind of environment in the first place. It's amazing how frequently our plans don't always pan out, but sometimes they actually turn out better than what we originally intended. When I feel stuck, it reminds me that feeling stuck is often more a state of mind than a reality. Once we start seeing the possibilities for change, it often makes us feel more confident that we can change our situation.
Q: Is there anything else you'd like to add?
Dr. Tzvi Doron: Healthcare is changing whether we like it or not. The telemedicine revolution is just one aspect of this. I believe in the future medicine will be more patient-centered, less invasive, less costly, more focused on prevention, and more frequently delivered in people's homes. I think as a physician, it's important to keep this in mind so you don't get left behind as things change.
A big "Thank you" to Dr. Tzvi Doron for doing this interview with me.
If you're looking for remote work, telemedicine/telehealth is an option and may give you an opportunity to grow with a company as this sector continually evolving.
'Til next time,
All my best to you!
Heather
Find what you're looking for: