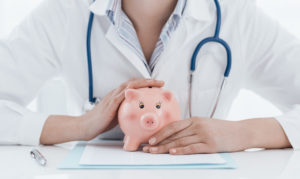 In this blog, I'm responding to a question from a female internist in Delaware who asked,
How big is the typical income drop when a physician moves into a nonclinical career?
This is a great question and there may be some surprises here.
If you've seen the movie, Jerry Maguire, you likely remember the scene where Jerry (Tom Cruise) is yelling at the top of his lungs into the phone, "Show me the money! Show me the money!"
Well today, I'm here to Show YOU the Money as it pertains to physician nonclinical career salaries and income.
A few things to keep in mind before we get to the goods…
Look at the whole picture, not just the salary.
When considering nonclinical salaries, it's helpful to calculate how many hours you're actually working in your clinical job. Too many of you are working way beyond what you should be and that affects your actual hourly compensation.
If you're making $180K and working 60 hours a week seeing patients, taking call, and charting, a nonclinical job that pays $180K and is 40 hours a week will be a net increase in your effective hourly rate.
Also, take into consideration the benefits package, bonus structure, and advancement opportunities.
Sometimes you have to go down to go up.
An entry-level position in a nonclinical job may result in a drop in salary for some physicians. However, the opportunity can also be a stepping stone to a higher-paying career trajectory.
While a lot of the entry-level nonclinical jobs are on par with a good number of physician salaries, there can be considerable upside income growth potential not typically seen in general patient care.
Quality of life and career satisfaction trump the piggy bank.
If you have money in the bank but dread going to work and have become someone you don't recognize at home, no amount of money is worth this betrayal of self.
As a physician, you likely have an overly developed capacity for enduring suffering and difficult situations.
There can be a tendency to put your head down and try and soldier on until retirement.
All that glitters is not gold
If you're suffering from physician burnout, a nonclinical job promising a nice salary and regular hours may seem like getting the golden ticket in the Willy Wonka candy bar.
But then when you're actually in the job, you find you miss patients and are hoping the door wasn't locked behind you.
Now – let's get on to the money!
These nonclinical salary ranges are from my experience with my clients as well as speaking with recruiters and physicians in specific nonclinical sectors.
The following ranges apply to Entry Level Positions for:
Health insurance, life insurance, disability insurance, Independent Review Organizations (benefits management/utilization review), physician advising, pharma, FDA, public health, and consulting.
Entry Level Fulltime Salary: $165K – $290K – Average $200K – $240K
Depending on the job and position, more senior positions can pay in the range of:
Senior Level Salary: $250K – $400K +
Benefits and Bonuses (vary depending on the company)
Bonuses: 7 – 40% of salary, stock options, 401K matching, CME, vacation, sick pay, health insurance, disability, dental, vision, life insurance, etc.
Additional details:
FDA: These salaries tend to be on the lower end of what is stated about with the average physician compensation in the lower to mid $200K range. The benefits are excellent and FDA experience can open doors to pharma and other areas.
Pharma: physicians with a desired expertise may be offered an entry-level salary package in the $300K – $400K range, otherwise the ranges will be more along the lines of what is stated above.
Consulting: In the big consulting companies, when experienced senior-level physicians are compensated for the amount of business they bring in, salaries can be in the high six figures and sometimes even seven figures.
Medical Writing: $90K – $150K entry-level. Experienced medical writers in regulatory writing, medical communications, and other areas can make higher salaries into the $200K + range.
To get back to the initial question:
How big is the typical income drop when a physician moves into a nonclinical career?
You can see that whether or not you go up or down, really depends on where you're at currently and what job offers you have.
On average, most primary care physicians will stay at their current income level or go up with a nonclinical career transition, especially when you factor in hours actually worked.
I want to add a word about stock options as some physicians are not familiar with this benefit which can be quite considerable.
If you work for a company that is traded on the stock exchange, like Aetna or Amgen, part of your package may be stock options.
Depending on how the company does in the market, this can increase your compensation by tens of thousands and even hundreds of thousands of dollars over time.
While dollars are certainly key in decision-making when it comes to a job or career, other factors can potentially be more important, even if hard to put a price-tag on.
For a risk-averse OB/Gyn, making a lower salary at a nonclinical job, but being able to sleep through the night and know she'll never have a mom die on her watch may be worth giving up her higher income.
For a worn-out surgeon making close to $700K, knowing he'll be home for dinner every night and can salvage his marriage, could be worth trading in his hefty paycheck for a more modest one.
For a burned-out family physician, a job in health insurance where she can still use her medical knowledge, make more money, AND see her kids grow up, sounds like it could be worth facing her fears of change and disappointing her parents.
It can go the other way too.
After several years in pharma, a cardiologist making $400K+ may decide that he really misses caring for his patients and the relationships with the families. He chooses to put on his white coat and return to the bedside.
My intention in providing this information is not to try and lure anyone out of medicine by flashing dollars. If you're happy in medicine, that makes me happy!
My hope is that by Showing You the Options, you can make career decisions that are right for you and your family. Others may have their opinions, but at the end of the day, you're the one working hard to earn the money.
You know what the money is worth to you. And you know what it costs you to earn it.
You get to decide if a nonclinical career is right for you or not.
My next blog is TBA and will be out on August 22nd. In the meantime, look for my weekly emails on Thursdays where you can ask questions and send suggestions for future blogs.
"Til then,
All my best to you,
Heather
Find what you're looking for: