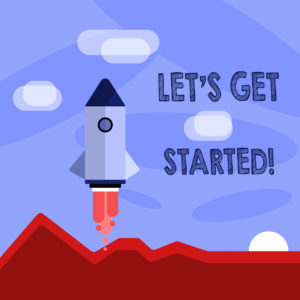 Hey there everyone!
I can't thank you enough for your supportive comments on my last post, Scary Stuff! What Challenges Me, about feeling stuck in how I want to grow my business. Your words were like rocket fuel for me and I am truly grateful.
Today I'm going to share Phase I of how I'm getting unstuck. My purpose is to help any of you who are feeling stuck as I know how painful and frustrating it can be.
An interesting "ah-ha" came to me as I was writing this blog that I think applies not just to my own experience but is also true for my coaching clients.
I do believe when we set a strong intention to change or grow, even if we don't feel ready or know where we're going, our inner wisdom starts preparing the way. Our inner GPS is activated.
Last year, before I even started taking deliberate steps on my business direction, I think this inner wisdom was guiding me to prepare my launching pad for change. Here's how it happened:
Phase 1 – Preparing my launching pad
Houston, we have a problem! 2018 was a tough one and there's no way I would've been able to launch a potato, let alone a new business direction from my launching pad.
There were four main things I did unwittingly, which prepared my launching pad for action and something more than firing tater tots. The first step was…
Creating space
My launching pad was not filled with clutter (I'd already done the Marie Kondo thing), but it was filled with "doing." Life was already super busy and then my father, who lived alone in Alabama, became ill. I stopped taking new coaching clients and began traveling back and forth to help him. Sadly, he ended up passing away. I really miss him, but I know he did exactly what he loved most until he died at 82 – physics and ground-breaking research. When he was gone there was an incredible amount to do with his estate. My brilliant dad was more focused on asteroid deflection than the mundanities of life.
After hundreds of hours on his estate, things settled down and finally, there was some space.
And in that space, I actually had time to notice some issues in my own life that needed addressing. My next step was….
Focusing on my health
You know there's an issue when you're sleeping in the closet on couch cushions! And no, it wasn't a lover's quarrel, it was insomnia. With my dad's passing and family stuff, my insomnia had amped up. I sleep better in small, dark rooms, so why not the closet? But with some other minor health issues getting worse, I decided to get serious and find some help. I tried a variety of things for my health and insomnia, all along the continuum from traditional medicine to hypnosis. Thankfully, I'm doing a lot better, and am more or less out of the closet!
Now that I had time and was more rested, I had the bandwidth for…
Addressing my relationships 
I feel lucky to have great relationships. No matter how good they are, from time to time there are important things that are hard to talk about. There were some issues circulating in my mind that I wanted to bring up. The thoughts contributed to the overall feeling of stuckness. So, I took the dive and had some honest talks. They weren't easy, but they went well. It's a good reminder to me that I can avoid conversations to try and "protect" other people's feelings – and my own. However, it's often those very conversations that allow me to be more authentic and present for the people I love.
In spite of feeling better in general, I still felt stuck in terms of how I wanted to change my business That's when I got the wild idea to make a "do or die" commitment to 365 days of daily meditation outside (here's the blog post). I had this notion that in order to get the ball rolling, I needed to be….
Committing to something uncomfortable
At the time when I made this commitment, I didn't have a logical explanation about how sitting on a bench outside every day meditating for 20 minutes was going to move me forward. If, anything, it would just leave me with less time to work on my business. However, something in me was really excited by the idea.
Now that I've been doing this daily practice for over 6 months, I see how this decision made perfect sense. If I'm going to grow my business in new ways, I'm going to have to get uncomfortable – a lot. If I want to grow as a person, it's going to be uncomfortable.
The commitment part added another dimension – of being disciplined in a different way – different than school or work discipline. The commitment was one I made to myself. In a paradoxical way, the commitment made doing a daily meditation practice the easiest thing in the world. It's a joy bomb. No longer are there these questions – When do I meditate? Do I have time? Is it worth it?
My commitment turned the pesky question marks into exclamation points of decisiveness.
This experience reminds me of the oft-quoted phrase, "love is not a feeling, it's a decision." This may seem like a bit of an aside, but I think it's getting closer to what happens when we make a strong commitment to ourselves – we start to value and trust ourselves more. We begin to believe we're capable of doing what challenges us. Dare I say we begin to love ourselves more?
If we wait until we feel ready to love ourselves enough to push our limits and find out who we really are, the time may never come. But in this moment, we can decide we are ready.
Stay tuned for How I'm Getting Unstuck – Phase II, May 1st, where I'm going to talk about getting into action, burning the credit card, making mistakes, and a goat named Butters!
If you're eager to make your own changes, you can click here to download a worksheet to help you with your own launching pad.
Find what you're looking for: