This was my 10th year at the SEAK Nonclinical Career conference in Chicago.
I attend SEAK every October to mentor and sometimes speak.
This year there were close to 400 physicians looking for options besides patient care.
What has changed in 10 years?
Most things are still the same. It's a fantastic conference and always delivers.
There are still burned out doctors who want to leave practice.
There are still doctors who want to make clinical practice work.
There are still doctors who have creative and entrepreneurial ideas they want to try out.
The core topics covered are fairly similar over the years. This year's lineup of nonclinical careers included:
Strategies for Career TransitionLinkedIn
Public Speaking
Life Insurance
Consulting
Health Insurance/Utilization Review
Start-ups
Teaching
Pharma
Locum Tenens
Medical Science Liaison
Telemedicine
Medical Communications and Advertising
Administration
Coaching
Hospice Medicine
Principal Investigator
Informatics and Healthcare IT
FDA
Medical Writing
Contract Research Organizations (CRO)
Disability Reviews
Physician Advising
Investing
I grabbed my syllabus from 2010, dusted it off, and compared the topics.
The offerings were similar, with a notable difference this year of the inclusion of talks on coaching, telemedicine, and Start-ups.
In 2010 there was a talk, "Selling Your Practice."  How many private practices are there left to sell at this point?
The food was similar – white bagels and cream cheese with fruit and cereal for breakfast.
Lunch was a buffet with salads, various iterations of fish and chicken in red or white sauces, veggies, soup, and a choice of desserts.
The random comments from attendees I'd hear about the conference were similar –
"This is like drinking from a fire hydrant."
 "I'm really glad I came. I didn't know there were all these options."
 "I'm feeling overwhelmed."
 "I have no idea what I want to do."
 But there is one thing that has changed.
It happened at my mentoring table – more than several times.
It happened when I'd see tears welling up in the eyes of a physician mom who has no time for herself and little time for her family because of caring for patients.  She always feels exhausted and thinks she's never doing a good enough job at work or home.
It happened when I'd see the pain on the face of a physician who's been working for years without joy in a career that's the wrong fit in order to provide for his family.
The tears and pain are not new. They have been there every year, and they often bring tears to my eyes too.
I feel the pain of what so many doctors have to endure to just do their job and take care of their families. When do they ever get to really enjoy their lives? It has always made me upset and angry.
But this year it felt different. Sharper.
The words in my head as I looked upon these faces were,
"This is so, so wrong."
No one should have to work so hard to get into a profession, train like a marathoner to learn a craft, and then suffer on a daily basis to provide care for others.
Being a plow horse sounds like a dream job next to the reality of being a physician these days. Fresh air. Exercise. Accomplishment.
I know this is nothing new. It is and has been this way for a while. And I've always felt it was wrong.
But I'm feeling it's time to do something more about the plight of our own.
The rallying cry, "Physicians owing it!" comes to mind as a slogan to capture our self-empowerment to effect change.
Physicians owning it can mean a lot of different things, but an overriding theme is for us to be honest about whatever we are experiencing (not hiding) and taking action to regain more autonomy and respect.
The individual actions may seem small and insignificant, but many small things over time can have an impact. They also help us feel like our contribution matters.
These are some different ways I'm seeing physicians "owning it" more:
Acknowledging to themselves and others how they honestly feel.
Being more willing to have their true identity published on blogs about their transition story.
 Letting administrators know they're experiencing burnout rather than hiding this fact and soldiering on or quitting.
 Talking and writing publicly about their burnout, depression, malpractice suits, and colleagues who've committed suicide.
 Negotiating to work fewer hours or have a different schedule, even if the party line is "No."
 Getting involved with the development of wellness programs within their institutions – and being paid for it.
 Helping each other out with resources and support in Facebook groups and other communities.
 Creating podcasts and on-line courses to help each other with nonclinical options and side-gigs.
 Refusing to let guilt and shame keep them stuck in the wrong job or career.
The problem is so big and complex – it can feel like trying to stack grains of sand to effect any change – futile.
But grains of sand put together can make a path. And that path can start leading somewhere.
We can all be contributing our own grains of sand to the path forward, in our unique way.
Does anyone want to start a "Physicians Owning It!" movement?
I'd love to hear what you're doing to "own it" and reclaim the autonomy and respect that you earned and so deserve!
We can all help each other. We can each make a difference. We can create the path.
Be back soon,
Heather
PS – If you want to read my post about the SEAK conference in 2015, click here.
Find what you're looking for: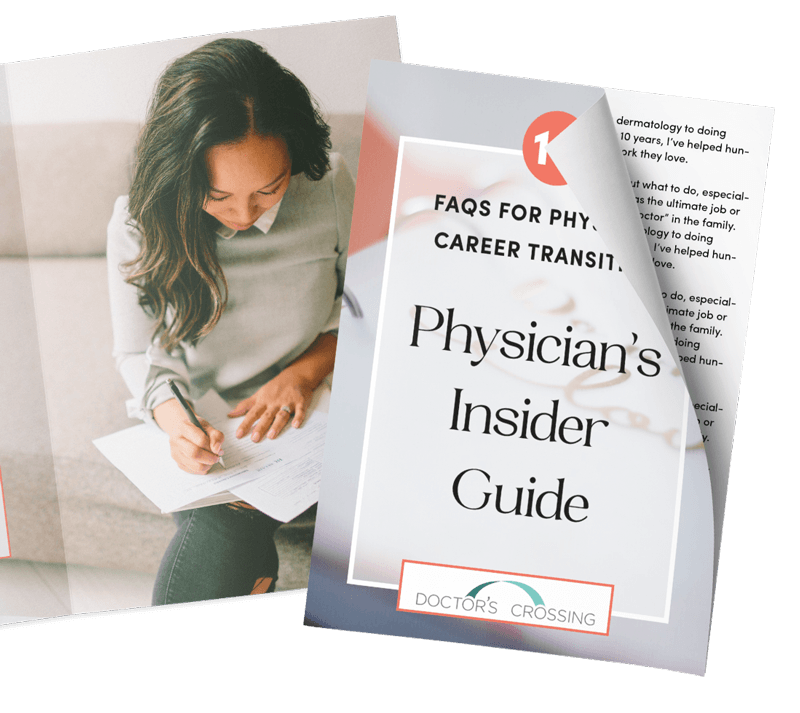 The Physician's Insider Guide
15 of the most common FAQs on physician career transition
Sign up below to get the resource to jump-start your career transformation! You will also receive the latest blogs and updates from Heather.