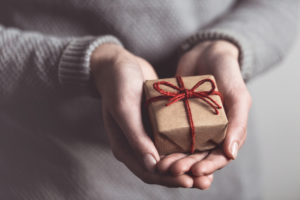 Last week I was backing out of my garage, heading for the gym.
I was almost to the end of the driveway when it struck me-
This might be the last time I'd see Josh.
I hit the brakes.
Josh is the uber charismatic guy who works the front desk at Gold's gym.
He is hands down the best person they've ever had in this role in the 15 years I've been going there. He greets each person coming in with unbridled enthusiasm.
He knows everyone's name.
When I come in he does his best Cheers greeting, belting out,
"HEATHER!"
He's always straightening things up, always busy, always cheerful.
Well, not surprisingly, he was offered a promotion to go to a newer gym where he could be a manager. There goes our Josh.
He hadn't even been at my Gold's gym very long, but we all loved him.
Could today be his last day?
I wanted to do something for him, to thank him, to acknowledge him for being so awesome. I'd already told him how great he is and told his supervisor, but I wanted to do something more.
I ran back into my house, wrapped a little gift for him, wrote a card and got back in my Subaru.
When I entered through the front door of the gym, I heard the familiar,
"HEATHER!"
There was the ever-exuberant Josh, wearing his Gold's gym shirt, smiling his big smile. You couldn't tell he'd been there since 4 am.
I handed him the little gift and my card.
He opened both up, smiled even more broadly, looking both surprised and happy.
It was really fun to see his friendly face light up. I wanted him to know how much I appreciated him, that he goes above and beyond.
He gave me his sincere thanks and appreciation.
Josh is great at his job, and he also knows it. But he's not arrogant. He just knows the truth of himself and enjoys expressing the gifts of his personality and drive.
He gave me the gift of receiving my acknowledgment and gratitude with joy and acceptance.
He could have said something dismissive, like, "You didn't have to do that Heather," or, "They'll find someone good to replace me." Or he could have put the gift and card aside and acted busy.
I'm sure you've had the experience of complimenting someone or expressing gratitude, and the person deflects it.
They may say something self-deprecating, find someone else to shift the praise onto, or just smile awkwardly at you.
I'm guilty of these things.
You may have been brought up to feel that it is arrogant or egotistical to accept direct praise or acknowledgment. It's not "being humble."
I've seen this not infrequently when I have clients who are leaving their practices or changing jobs. They don't know what to do with the outpouring of love and gratitude from their patients.
These excellent doctors tell me they just want to get this part over with.
They say they're not comfortable with the patients expressing how they feel about them.
As a physician, you touch people deeply. You change their lives in profound ways.
You have likely saved lives.
You create the space for people to be seen and heard in very intimate ways. This is a special relationship and when patients want to say what you mean to them, it's a reflection of what you've given them.
It is a reflection of you and your gifts.
If they're upset or angry you're leaving, likely you have really helped them. You may be the first doctor they felt truly cared for them.
You may not be saying good-bye to patients now or anytime soon, but if you feel you'd like to be better at accepting acknowledgment and gratitude from others in genearl, I have a few steps to try – maybe today on Thanksgiving or another time…
Perhaps someone is…..
Complimenting you on how delicious your stuffing is
Commenting on how good you look in your holiday outfit
Expressing gratitude that you diffused a tense situation
Thanking you for seeing them in the hospital on a holiday
Acknowledging how much you do for the family, or
Telling you how much they mean to you
Step 1 – Breathe
Step 2 – Make eye contact with the person who is speaking to you
Step 3 – Listen fully to what he or she is saying
Step 4 – Avoid saying something deflective or dismissive
Step 5 – Let the words sink in, feel their impact
Step 6 – Breathe
Step 7 – Trust that if you are simply present, you will know what to do or say, and it will be genuine.
We can always get better at giving and receiving gratitude and acknowledgment.
However, my impression is that more of us need help on the receiving end than in the giving.
I think it becomes easier to receive acknowledgment and appreciation the more we're willing to accept who we are and honor our gifts and the things that make us unique.
It's not arrogant to appreciate who you are and all the good that you do.
You were given the gifts that you have, and the more you honor them, the more they expand, and the more they touch others.
Receiving graciously the gratitude of others returns it in kind, creating a resonant connection that empowers and enlivens each person.
I can't end this post without telling you how incredibly grateful I am to each and every one of you.
Since I started The Doctor's Crossing ten years ago, there has never been a single day when I ever wanted to be doing anything else, and this is because of you.
You inspire me every day to be here for you. It is truly a joy. Thank you for all that you do and all that you are. I tell people unashamedly that I love my clients and readers and that's the truth.
Happy Thanksgiving!
Many joys and blessings to you.
Heather
Find what you're looking for: