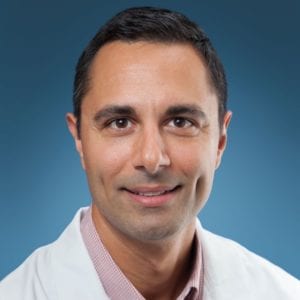 Earlier this week I had a doctor's appointment – in the privacy of my own home!
This was my first ever telemedicine appointment. It was sooooo easy. I clicked on a link at the scheduled time and was on two-way video with my doctor within minutes. She is an internal medicine physician who runs her own cash pay integrative medicine practice.
It was super convenient to not have to fight traffic to see her and interrupt my day for this follow-up visit.
When it's something easily handled over the phone or video, this use of telemedicine is a game-changer.
Today I'm excited to bring to you Dr. Adonis Saremi, a board-certified internal medicine physician who has been working full-time for a telemedicine company. He enjoys what he does and kindly agreed to share his experience with you.
Please read on for our interview!
How did you get into telemedicine?
Dr. Adonis Saremi: After completing residency in internal medicine and practicing for a couple of years, I began looking outside of the box. I enjoyed utilizing my medical knowledge to help improve the lives of patients, but I was looking for other ways to leverage my skills. I initially found opportunities in medical writing and utilization review; in fact, I ended up working as a full-time, in-house, physician author for a leading medical education company for 2 years.
But leaving the bedside didn't sit well with me as I still had a passion for direct patient care. I missed developing relationships with my patients and diagnosing and treating diseases – after all, this is was the culmination of my education and clinical training. I ended up returning to a traditional brick-and-mortar clinical practice.
Around the same time, I began researching the field of telehealth. I became increasingly intrigued by the integration of technology and medicine.
I initially began working as an independent contractor for a startup telehealth company. I quickly realized how essential telehealth is by virtue of the positive impact I was making on patients. Patients were very appreciative due to the convenience, cost-effectiveness, and efficacy of the care I was providing. I was also able to help patients in remote areas of the country that otherwise had limited access to healthcare.
I ultimately signed on as a salaried employee and have been extremely satisfied with my career. I have now been working in telemedicine for about a year and a half.
What is a typical day like?
Dr. Adonis Saremi: My day begins around 8:30 am. I start up my laptop and log in to my company email and electronic medical record system. The first order of business is reviewing scheduled patients and triaging them appropriately based on their chief complaint. I then respond to emails and inquiries from patients and medical assistants. I subsequently evaluate and respond to labs that have returned to my inbox.
I start seeing patients at 9 am. Patients are scheduled in 15-minute blocks, which is usually an adequate amount of time to address their concerns. Appointments take 5-10 minutes on average. The majority of visits are conducted via video, although some are done by phone. I take the patient's history and conduct a virtual examination. This is no different from in-person care, apart from an in-person physical examination. Vital signs are typically provided by the patient.
After sharing my assessment with the patient, I offer recommendations and develop a mutually agreeable plan. This may include ordering labs, referrals, and/or medications. Patients that require in-person care are directed to their primary care provider, urgent care, or the emergency room depending on their condition.
Throughout the day, I may receive additional emails, inquiries, and labs. I address these issues during openings in my schedule.
What types of conditions do you see?
Dr. Adonis Saremi: There is a mix of insured and uninsured patients. As an internist, I specifically see patients age 18 or older. We evaluate a broad range of conditions, which may include:
Upper respiratory infections
Influenza
Asthma
Allergies
Urinary tract infections
Rash
Hypertension
Hypothyroidism
Contraception management
Type 2 diabetes mellitus
Erectile dysfunction
Sexually transmitted infections
Mild to moderate depression and anxiety
What are some of the advantages of telemedicine for patients and providers?
Dr. Adonis Saremi:
For patients
Most patients attest to the convenience of telemedicine. They can be seen immediately as opposed to booking appointments weeks or months in advance, making access to care a major benefit. Patients also avoid the commuting and wait time that is typical of traditional clinical practice.
Additionally, patients typically face lower healthcare expenses. Many major insurers offer telemedicine services at low or no copay. Patients without health insurance pay a fraction of the cost in comparison to in-person care.
For providers
Physicians typically experience increased flexibility with their time. The convenience of working from home may also appeal to individuals with families. All you need is a private workspace, strong internet connection, and a computer with a video camera.
Telehealth may also be less stressful for physicians as the complexity of virtual care is generally less than in-person care. Lastly, telehealth is a rapidly expanding field with a great career outlook. Primary care physicians that are not integrating telemedicine into their practice may ultimately be left behind.
What are some of the downsides?
Dr. Adonis Saremi:
For patients
Telehealth does not replace in-person care, and sometimes it can be a challenge explaining this to the patient. Some patients insist on receiving care despite the recommendation to be evaluated in person. Many conditions can be safely managed virtually; however, there are certain conditions that cannot be safely managed via telehealth. Lastly, human touch may offer patients a more personal and comforting experience under certain circumstances.
For providers
Occasionally, the lack of objective vital signs and physical examination findings can lessen diagnostic certainty. The absence of an in-person physical examination may also limit the complexity of patients that can safely be managed via virtual care. As you deal with less complex patients, some of your clinical skills may diminish over time. Therefore, it is especially important to participate in continuing medical education.
Lastly, telehealth may feel lonely at times due to the lack of in-person social interaction with patients, medical assistants, nurses, and other healthcare professionals.
What is the compensation like?
Dr. Adonis Saremi: Compensation in telehealth is generally 20% lower than traditional primary care practice, but money isn't everything. Consider the fact that you can work from home and will typically have more control over your time. You may also be happier and experience reduced stress. This makes telehealth well worth it for many physicians.
There are several models for compensation in telehealth. Hourly compensation for independent contractors is around $100/hour on average. Some telehealth companies compensate around $25-$35 per patient but do not guarantee the number of patients you will see.
Full-time, salaried employees can expect an average of $180,000-$200,000 annually. Many companies also provide benefits such as health insurance, paid time off, and 401 K for full-time employees.
Independent contractor versus employed model
Dr. Adonis Saremi: Independent contractors often work less desirable shifts such as weekends, night shifts, and holidays. Shifts may not be guaranteed and there are no additional benefits.
Salaried employees are guaranteed shifts. They have seniority in terms of choosing their preferred schedule, including hours and days of work. They also typically have priority in terms of working holidays.
How does one get started in telemedicine?
Dr. Adonis Saremi: Begin by educating yourself about the field. The American Telemedicine Association is a great resource and becoming a member can help demonstrate your commitment to the field. You may also consider doing a 1-2 year telemedicine fellowship. These are currently offered at George Washington University and Thomas Jefferson University.
If you desire to immediately get your feet wet, consider starting as an independent contractor for a telemedicine company to see if you like it. Research different telemedicine companies and choose one based on your desires and interests.
Another important consideration is licensing. Obtaining medical licenses in multiple states will provide a competitive edge. I recommend checking out the Interstate Medical Licensure Compact website.
Where do you see telemedicine going in the near future?
Dr. Adonis Saremi: Telehealth is a rapidly expanding field with a great outlook. As the field grows, we can expect to see increased state and federal deregulation. Consequently, more and more healthcare systems are going to implement telehealth into their care model.
We are already experiencing an increase in reimbursement by private insurers and federal programs such as Medicare, and this should continue to expand. Large healthcare organizations such as Kaiser Permanente and the Department of Veterans Affairs have already jumped on the bandwagon. There are also major partnerships taking place between healthcare systems, payors, and technology-based companies (eg, Google, Apple, and Microsoft). American Well, a large telehealth corporation, is partnering with the Cleveland Clinic to provide virtual specialty services for patients.
As technology continues to progress, we can expect an increase in the integration of technology and medicine. Patients will likely wear technological devices that measure objective vital signs continuously in real-time. For example, there is already work being done to develop cuffless blood pressure measurements using optical technology.
Physicians will also be able to perform more detailed virtual examinations. We are already witnessing an increase in dermatologic conditions being diagnosed with photos taken from high-resolution cameras on phones. Physicians are also performing otoscopic examinations with virtual cameras.
Healthcare will have an increased reliance on telemedicine for triaging and management of semi-urgent and primary care. Most mild-to-moderate psychiatric illnesses will also be managed virtually.
What's a good telemedicine company to work for?
Dr. Adonis Saremi: What one considers a good company depends on their likes, dislikes, beliefs, values, and interests. What I consider a good company largely depends on the company's mission and culture. Does the company value patient safety, satisfaction, and outcomes? Does the company equally prioritize physician satisfaction and are they open to receiving feedback?
When choosing a telehealth company, I believe it is important to research how patients view the healthcare system. Is the company transparent regarding their prices and fees? Does the company strive to provide excellent customer service? Are patients receiving quality care and are they satisfied with their treatment?
It's also important to investigate how the physicians view the company. Is the medical director or chief medical officer a good leader? Is there adequate medical oversight over business operations and marketing strategies? How are patients triaged and assigned to you? Does the company comply with state and federal regulations and how so? Are appointments primarily conducted over video, phone, or asynchronously? Are controlled substances being prescribed? How are the physicians compensated?
In your opinion, what kind of physician would or would not do well in telemedicine?
Dr. Adonis Saremi:  A successful telemedicine physician must first enjoy practicing medicine and caring for patients. Additionally, I believe a physician will do well if they are open to learning and are comfortable with change. Although telemedicine started in the 1990's, it is still a relatively new field that is constantly growing and changing for the better. Most physicians interested in telemedicine are also passionate about the integration of technology and medicine to improve healthcare outcomes.
If you don't enjoy seeing patients, are frustrated by change, and dislike technology, you may want to reconsider telemedicine as a career.
If you're on the fence about telemedicine, take some time to learn more about this exciting field!
I'm very grateful to Dr. Adonis Saremi for taking the time to give you this bird's eye view into his career in telemedicine. I hope you found it useful.
In two weeks, you'll get to read a different perspective on telemedicine in my blog interview with Dr. Tom Davis who helps physicians develop their own telemedicine practice as an independent contractor. Stay tuned!
I'm wishing you a wonderful holiday and the best ever New Year!
Heather
Find what you're looking for: