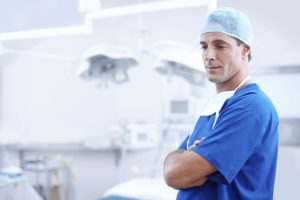 Hold onto that medical license and keep your stethoscope handy!
If you're thinking about leaving clinical practice, don't retire that license too fast or stay out of practice too long – unless you're lock, stock and barrel sure you're not going back. Even then, it's wise to keep everything current.
You may be burned out, wanting more time with your children, or needing to care for elderly parents. Perhaps you're shifting into administrative work or have been enticed away to a start-up company. You might only intend to be away from practice for a year, but then before you know it, 5 years or 10 years have passed, or more. Maybe your financial situation has changed. Is it too late to return?
What is required to return to practice?
Depending on how long you've been out, your specialty, and other factors, it could be as simple as making a few phone calls, or it could be harder than climbing a double Mount Everest to return. And as with summiting Everest, no one guarantees your success.
Dr. Christine Stone, an internal medicine physician was gone for 14 years before she decided to return to practice. In her blog, Reentry Physician, she chronicles her return to primary care, which took 27 months and cost $40,000. To begin practicing again, Dr. Stone had to get her license back, pass her board certification, find a preceptor willing to supervise her, and then find a job. Every step took longer and was more difficult than she anticipated, but she made it and offers her blog as a way to help other reentering doctors.
What are the challenges to reentry?
Where do I start? First of all, each state sets their own policy on reentry, and close to 50% of the medical boards do not have a formal reentry policy (AMA fact sheet on reentry). Per the AMA's 2011 medical board survey, 2.8 years is the average length of time out of practice after which some type of reentry program is required.
Second, the programs for reentry are few and far between, and they are not inexpensive. Each program has different features, but at a minimum, they involve some type of assessment to determine the physician's knowledge base and clinical competence. The assessment phase on average runs around $10,000. If there is a patient care component offered, it may be more of an observership or involve direct hands-on patient care. The fees for this phase can be $10 – $20,000+, not including living expenses.
Dr. Stone did the CPEP Program (Center for Personalized Education for Physicians). CPEP is for physicians from any specialty who left medicine in good standing and involves two phases. Phase 1 is an assessment of clinical skills and knowledge base. Phase 2 involves practice-based learning which is usually done in the physician's home community. It's the physician's responsibility to find a preceptor (supervisor), and this can be daunting.
After getting a lot of "No's" when trying to find a preceptor, and even wondering if after coming so far, she was going to fail to meet her goal, Dr. Stone finally found a preceptor through a personal connection and was able to fulfill her reentry requirements. She is now working again in primary care.
Dr. Gould, a psychiatrist who had been out of practice for years filling several executive roles in healthcare, did the CPEP program as well. He also had an incredibly hard time trying to find a preceptor for the necessary supervision. About his reentry process, Dr. Gould recounted,
"Prior to starting the process I requested a meeting with the Minnesota Board of Medical Practice, having submitted my basic credentials to them, and asked them outright if, with the proper re-training, would they be willing to license me. If not, I wouldn't waste my or their time. They were generous in being willing to preview my application and told me if I worked with a company they knew and had confidence in, like CPEP, they would. So, I immediately contacted CPEP and did whatever they wanted me to do, so when I returned to the Board, I had their approval. Finding a clinical supervisor turned out to be the biggest problem in the whole process. I had my own malpractice insurance and was willing to pay a supervisor their hourly rate for supervisory time, but I needed some program that would let me see their patients as a mature trainee."
After months of trying to find a supervisor, Dr. Gould's persistence paid off and a connection from 20 years ago came through for him.
"All in all, Dr. Gould said, "the whole process took about 18 months and cost about $20,000."
How About a Mini-Residency?
A reentry program in Texas has a solution to the challenges of finding a willing preceptor. The KSTAR/UTMB Reentry Program (A partnership of Texas A&M and The University of Texas Medical Branch) offers a mini onsite residency at UTMB in Galveston.
Physicians need to do a two-day assessment first to see if they qualify for the 3-month mini-residency. Most specialty and subspecialty programs will be possible for those who are eligible. Reentry physicians function as part of the medical team and have access to performing procedures. Liability insurance is available.
Another option is The Drexel Reentry Program in Philadelphia
Eligible specialties for the Drexel Program are internal medicine and subspecialties, pediatrics, OB/GYN, radiology, and anesthesia (other specialties may be possible). While there is no direct hands-on patient care, there is an extensive assessment followed by clinical rotations on the wards, simulated patient encounters, instruction, and feedback.
Lifeguard is a program in Harrisburg, PA open to physicians seeking reentry, including those who have been involved in disciplinary action or may not have finished a residency (depends on the state).
In an interesting twist on reentry, the Physician Retraining and Reentry Program (PRR) in California offers an online program for physicians wanting to reenter or transition into adult primary care. Physicians do not need to be from primary care to be eligible, and doctors from a variety of specialties, including surgery, have enrolled in this program. As a case in point, former urologist Dr. Michael LaRocque became restless in retirement and decided to do the PRR program. He now works as a primary care physician seeing patients at a federally qualified health center in California.
Is a formal reentry program necessary?
Every physician's situation is different, depending on specialty, time away, state licensure, CME hours, etc. My recommendation is to find out what your state board requires.
One of my clients who left internal medicine for over a decade to raise her children just landed a great job at a progressive primary care clinic. She had kept her license active, and took an intensive Harvard Review Course to prepare for her boards, which she happily passed. She shared this information about her reentry for the blog,
"When I was starting my process, before I took my boards, I contacted Drexel, because I wanted to enroll. They told me to apply for jobs first, and if the employer required me to do a refresher program, to call them back. My current employer did not require me to do a refresher program. Before I started I did some shadowing of one of the primary care physicians. They are starting me slowly, seeing about 10 patients a day. So far, it's been like riding a bike. My main questions are related to the EMR, and not clinical."
If I'm transitioning to a non-clinical job, do I need an active license?
Many doctors are surprised to learn that a good number of non-clinical positions require an active license and even board-certification.
Do I need to keep clinically active to some degree?
If you are in a nonclinical job and are able to do some intermittent patient care (locums, volunteering, urgent care shifts, teaching, etc.) you could have a much easier time returning to medicine if you so choose. While this can be impractical for some jobs and specialties, it is worth considering and seeing what's possible.
Does this mean I can't take a break?
Absolutely not. I've seen doctors take significant time away and return without missing a beat. Obviously, this depends on your particular situation, but for a reasonable time period, there is more latitude than you might think. Giving yourself time to recover from burnout, flex some different muscles, or devote time to family, can give you an entirely new perspective. Do your due diligence before you go, and if you plan to be out for a while, you might want to set aside some money in a "reentry jar," just in case.
Find what you're looking for: