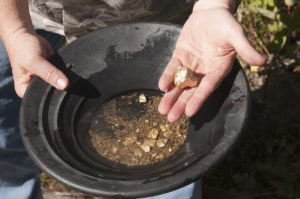 All dressed up and nowhere to go.
Is this your LinkedIn profile? You've put in the time to get your headshot and entered in your professional history. You even have a number of contacts.
But it's like, now what?
 What the heck do I DO with my profile?
 How do I reach out to people for "informational interviews" to learn about different types of jobs?
 How do I connect with recruiters and current and past employees of select companies?
It's no joke that something as seemingly simple as sending a message on LinkedIn and asking for help, can feel harder than performing brain surgery.
Why? For starters, if you're doing brain surgery, someone has (hopefully) showed you how to do it.
You didn't just wake up one morning saying, "I'm going deep-sea diving in the corpus callosum. What fun!"
Since we're not taught how to use LinkedIn, and it involves reaching out to strangers (scary) and asking for help (scarier) I'm going to give you one of my favorite ways to break through this barrier.
But before I jump into how to do this, I want to look at the root of the resistance to networking on LinkedIn
Let's say you want to message a physician who's transitioned into a nonclinical sector. You're excited and want to learn more. You'd love to talk to this physician and do an informational interview.
But,
You don't know this person from Adam.
You can't imagine why this person would want to talk to you.
You worry that he/she will think you're clueless.
You aren't sure what to say in your message.
You don't want to be ignored or rejected.
No wonder it's more fun to clean the garage, pay bills, or talk to your mother-in-law than to write a networking email.
No one likes to receive cold calls, and no one I know likes to make them.
When we reach out to people on LinkedIn, we want to avoid cold calling.
We can "warm up" our potential connection in a variety of ways, but today I'm focusing on using your alumni network for finding warm connections.
Because you've done so much schooling and training, your institutions of higher education can be an excellent place to start.
If you want to talk with someone in pharma, medical writing, healthcare, expert witnessing, or anything else, first search your alumni network (college, medical school, residency, etc.) to find people to reach out to.
People on LinkedIn are much more likely to speak with you if they feel some type of connection to you.
In my LinkedIn talk at SEAK, I gave the following example – I wanted to speak with a physician who was working for UnitedHealth as a medical director.
If I search on LinkedIn for "UnitedHealth Medical Director" I get 15,657 results. Wow!
How do I decide who is most likely to say, Yes! I'll talk with you Heather!?
When I search on my alma matter, putting in UnitedHealth Medical Director – 10 alumni come up!
To get to this result I entered into the main SEARCH bar:
Oberlin College (School) > Alumni
I typed in "UnitedHealth Medical Director" while on the alumni page.
10 results came up.
I clicked on the profile of someone whose photo looked friendly. When I read this physician's profile, I confirmed that she was a medical director at UnitedHealth.
To my surprise and delight, I also saw that at Oberlin College she took Art History and Dance. Bingo!
I had taken Art History and Dance too.
So instead of sending out a bland generic message, like Hi, I'd like to connect with you on LinkedIn, I instead mentioned how excited I was to have found her and the things we had in common.
She responded very quickly to my initial message.
We ended up having a lovely chat on the phone and she mentioned another medical director whom she thought could be a good connection for me. Having these inside connections helps me better assist my physician coaching clients.
Other ways you can find "warm" connections is to search for physicians in the same specialty, geographic location, or those who have similar interests.
Don't be discouraged if you reach out to 10 people and you hear back from one.
A lot of people miss their messages or don't check them often.
Don't take radio silence personally. Keep at it. It's kind of like panning for gold.
When you find that special connection, it's like finding a treasure.
The right person can open doors for you and make this process easier and more fun.
And before too long, you might be that person a fellow physician is reaching out to for advice.
I'd love to hear your stories of success connecting with your alumni network – or with anyone on LinkedIn.
Click here to access my Free Resource: 5 Winning Tips for Using LinkedIn
And if you're ready to optimize your LinkedIn profile and make LinkedIn work for you then you'll want to check out my new video course LinkedIn for Physicians.  
This course teaches you how to find jobs in your area of interest as well as how to reach out to folks on LinkedIn who can open doors for you in your career quest. You can learn more about the course HERE.
Be back soon,
Heather
PS. If you missed my last post, 5 key tips to jump-start your LinkedIn profile, you can read it here.
Find what you're looking for: