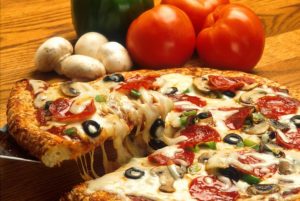 I'm calling it your "Personal Pan Retreat" in homage to those tasty little pizzas you get to design with your very own choice of toppings. Want extra cheese? You got it. Hold the anchovies? No problem. Extra sauce? Check!
Why a retreat?
Life on the proverbial hamster wheel has such momentum that it's difficult to slow down and find the time to reconnect with our deeper self. When we do get a break, we may be on a whirlwind family vacation, fixing up the house, hosting company – or all of the above. A retreat can certainly be a vacation, but it has a specific focus.
I'm planning a one-day Personal Pan Retreat at the end of the month to do some visioning for my next 5 years. I've been wanting to make some changes for a while now, but gosh darn it, in order to figure out exactly what kind of changes, I need some devoted time and space. And I get nowhere thinking about it while carrying on with my day-to-day life. Can you relate?
Using a retreat to create a vision for your future is only one possible focus, below are some other options that exist:
Meditation and Mindfulness
Yoga
Writing
Spirituality
Healing and Renewal
Leadership
Art/Creativity
Visioning
And yes, even Physician Burnout retreats!
You can find a retreat to join. However, you can also create your own retreat for free, right in your own home.
How to plan your Personal Pan Retreat
First, decide on the focus of your retreat. It could be like mine, for visioning and goal setting, but it could also be for reconnecting with yourself by doing art, yoga, writing, woodworking, meditation, prayer, gardening, singing, etc. It's not so much about the "what" you are doing, but "how" you are doing it. Many retreats are done in silence, or partial silence, in order to create a space for being fully present and focusing on each moment, rather than being lost in thought or activity. From this space, ideas and inspiration may flow.
Second, figure out the length and location. You can plan your retreat for ½ a day, a full day, overnight, or longer. You will want to have undisturbed time, so whether this means clearing the decks at your own home, going to a cabin, a seaside hotel, or a local bed and breakfast, the choice is yours. Some retreat centers offer their facilities for individuals to come and do their own retreats on the premises. You may join in on a formal treat if you prefer, or plan a retreat with friends or family.
Just for fun, here are some tongue-in-cheek themes for Personal Pan Retreats!
#1 Burnt to A Crisp No More! – Are you burned out from practice? Take your white coat off for a day or two and create a recipe to end the burnout.
#2 Who Stole My Cheese? – Feel like something's missing in your life? Get that cheese back and then some by channeling Sherlock and tracking down the likely suspects.
#3 The Picassoroni – Bring out your inner artist and creative spirit through painting, drawing, woodworking, or whatever medium beckons.
#4 The Greek Goddess – Ladies – leave work, the laundry, the cooking and kids for a spell and rediscover your identity apart from any role. Keep your location a secret.
#5 The Whopper – Want to have it all? Take the time to set some juicy goals for the next 5 -10 years and make a plan to make it happen.
#6 Olives N' OM's – Simple, yet not easy. All that is required is to breathe, meditate and be present.
#7 The Man Cave – The Man's Man retreat. He-man stuff, you know. Not sure on the details here. Ask a man.
Once you have your theme and location, then you can make a schedule. Below is one example where I use the theme of Creativity. What your day looks like is of course entirely up to you!
7:00 AM Wake up
7:15 AM Exercise
8:00 AM Breakfast
8:30 AM Guided Meditation (can use an app*)
9:00 AM Creative Activity – Draw, paint, write, play music, do wood working, pottery, gardening, cooking, crafting, photography, etc.
10:30 AM Reading: preselected reading related to your creative activity or creativity in general
11:00 AM Creative Activity
12:30 PM Lunch
1:00 PM Walking Meditation or Mindfulness Exercise
1:30 PM Journaling: jot down some notes on your experience thus far
2:00 PM Creative Activity
4:00 PM Refreshment/Tea Break
4:30 PM Meditation or Mindfulness Exercise
5:00 PM Wrap up: how you would like to bring more creativity into your day-to-day life?
You don't need to have your time this structured, but I would at least have a rough schedule and gather the supplies you want to have and plan your meals. Allow some time for a little journaling and self-reflection.
If you like the idea of a retreat yet would rather not have to create your own, click here for some options.
* A Meditation App is an optional resource for your retreat. I personally love Headspace but here are a number to choose from. Even if you are not doing a meditation-themed retreat, you can use the app for 10-minute meditations throughout the day to help stay focused and grounded.
If you decide to do a retreat – homemade, frozen, or at a retreateria, I would love to hear about it!
Til next time,
Buon Appetito!
Find what you're looking for: