The biggest, shiniest, most powerful pearl I can share with you from 2014 is if you want to succeed in your career transition, you must network! Not once, not twice, but on a regular basis. Think flossing. It's been said a thousand times over, "It's not what you know, but who you know." And for good reason. Knowing the right person can make the seas part. The right person can connect you with a key contact, share invaluable advice, open locked doors, and most importantly, instill hope and possibility.
One of my clients who recently found a great new position describes his own experience:
"I was so naive when I started my job search. I found an ad for a job I wanted and carefully crafted the 'perfect' cover letter and sent in my CV. Thinking that I would certainly get a call for an interview, I confidently waited and waited…and waited. Over the next four months I repeated this process about 20 times. It was so humbling to send in my CV and get no response. I eventually got one interview opportunity for a job I really didn't want.
"During the same period, however, I sent emails to about half a dozen people that I already knew – asking them if they knew of any openings. This resulted in five additional interview opportunities and, ultimately, three job offers. The interesting thing is that all five of these jobs were filled without any advertisements. I've never really been a 'networking' person, but the few people I know really came through for me. Even though I've found the job I wanted, I will definitely continue to keep up with and grow my network."
Another one of my clients wrote the following after attending the American Association of Physician Leaders conference,
"Wow, the power of networking!  Not even 'networking,' just talking. I approached someone at a break to follow up on a question he asked in the seminar. Ten minutes later, I had learned some valuable tidbits on administration and he was asking me to send him my resume. I still don't know where I'm going, but I have some more ideas on how to get there – not my ideas, mind you, but more of a confidence in ideas that didn't appeal to me before. Networking is one. Why it didn't resonate with me before is baffling and a bit embarrassing. I'm sure Heather has told me to network at least 138 times. I know it works in patient care – I tell the residents all of the time to communicate and keep good relationships with consulting docs because it facilitates good care. I think I've now realized that there is a big difference between networking and schmoozing. I've had a chance to observe some people who are very good at it. I'm also getting over the fear of approaching people I don't know. Its more than just gathering business cards, obviously, but just talking to the person sitting next to me at breakfast was a big step and very difficult for me. Another skill to learn.  In reality, it amounts to maintaining friendships and forming new ones.  Why should that not be appealing? Career aside, it is a good formula for life, too."
A big "Thank you" to my two fantastic clients for sharing their words of wisdom. Their stories are not unusual. As physicians, we like to be self-sufficient and rather not have to reach out to others for help. We have operated under the model where when we proudly fire off our CV, we will be wanted! It can be insulting and frustrating to be met with profound silence. You start to wonder if there's some big black hole out there slurping up your CVs.
As the above stories illustrate however, when we need to change our tack, we can. And to good effect. Anyone, even self-proclaimed introverts, can become good networkers. In a prior blog, Help For the Shy Networker, I offer tips for those who break out in a sweat at the thought of networking. Technology has given introverts a great boost here. With all of our social media options, much of our networking is possible through the Internet and phone. Yes, you can network in your pajamas!
Networking is not only invaluable for the job search; it's incredibly useful for learning about non-clinical careers. As you many have noticed, no central site exists to research and apply for non-clinical careers. Learning about the different areas such as Pharma, Informatics, Public Health, Consulting, etc., requires considerable detective work. One of the most useful strategies for finding out how to make these transitions is to talk to people in these fields. You'll want to hear their stories firsthand and ask a lot of questions.
You may have a brother-in-law, or neighbor, or friend who knows someone who knows someone at Roche or the FDA or McKinsey. These are great connections to pursue. But don't worry. Even if your contact list (Rolodex for us old-timers) is woefully sparse, and your social circle no bigger than a Hula Hoop, LinkedIn is here to save you. In my next blog, I am going to address how you can use this fabulous professional networking site to aid in your career success. In preparation, if you're not familiar with LinkedIn, take a few minutes to check out the site and consider starting your profile. It's free, and it could open the door to a shiny new career. For some guidance on setting up your profile, wikihow walks you through the process here. 
Find what you're looking for: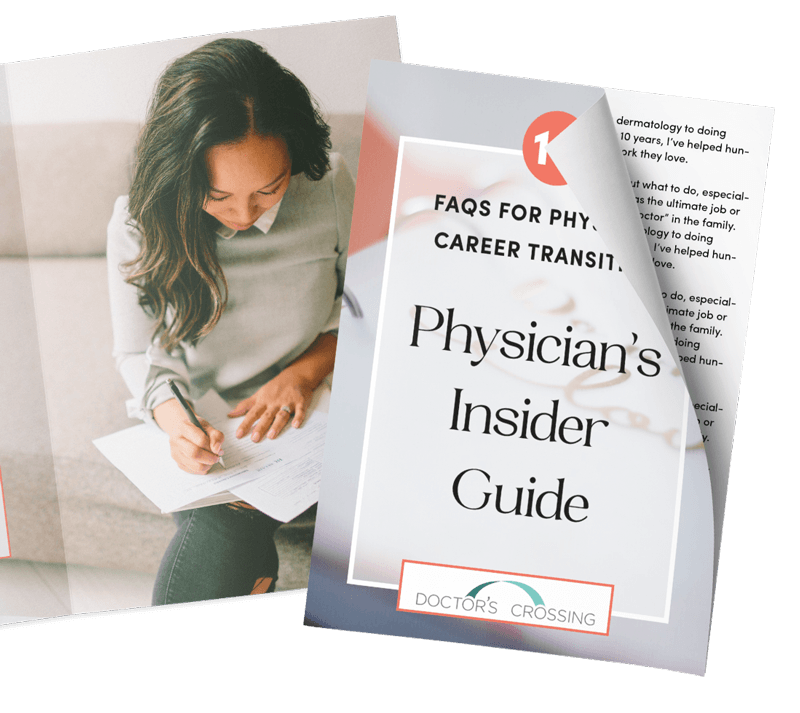 The Physician's Insider Guide
15 of the most common FAQs on physician career transition
Sign up below to get the resource to jump-start your career transformation! You will also receive the latest blogs and updates from Heather.