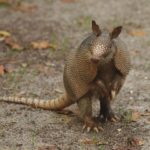 One of the many things I love about my work is getting to attend conferences to explore new career options for my physician clients. I search out both non-clinical directions as well as ways to be happier as a clinician. I always learn a tremendous amount, meet interesting people, and gain a better sense of the opportunities available for doctors.        
And I usually have some fun too! The life insurance conference in Austin was no exception. On the final night, we were treated to a Texas-style party complete with dancing, a live band, BBQ, and something I've never seen before – armadillo races! Actually, it was one race. Armadillos, it seems, prefer bug hunting and running in erratic circles to going for the gold!
Attending a conference can help you:
Gauge your interest level in a specific area
Network with those who have already transitioned
Find out about job opportunities and hiring trends
See if the attendees feel like your "tribe"
Learn more about the pros and cons of a new area
Have some fun and get out of dodge for a few days
As doctors, we often don't really know what's out there. We may think working for a life insurance company means selling life insurance when the job actually entails using your medical knowledge to evaluate mortality risk. We may dismiss pharma as "going to the dark side" when there are many dedicated physicians working with integrity and high satisfaction in this diverse field. We may still want to practice, but need a new approach to patient care. Below I have listed select conferences for this year. Since it is early in the year, some are just beginning to post their agendas.  Click on the links for conference details.
Medical Writing / Writing
Click here for the 2016 agenda – 2017 not available yet)
American Medical Writers Association Conference
November 1 – 4, 2017  Orlando, Florida
The Life Examined – Exploring the intersection of the arts and medicine
October 12 -14, 2017 Iowa City, Iowa
Non-Clinical Careers
SEAK Nonclinical Careers Conference
October 21 -22, 2017  Chicago, IL
SEAK's ongoing seminars on expert witness, consulting, IME's etc
Chart Review/Disability
How to Start, Build and Run a Successful Disability and File Review Practice
February 11 – 12, 2017  Clearwater Beach, FL
Pharma
DIA Global* (largest pharma conference in the US)
June 18 – 22, 2017 Chicago, IL
Life Insurance
Click here for 2016 conference agenda – 2017 not available yet)
American Association of Insurance Medicine
October 15 – 18  2017 Atlanta, Georgia
Physician Advisor
Click here to read a blog about being a physician advisor
Physician Advisor and UR Team Boot Camp
July 19 -21 2017 Bonita Springs, FL
Physician Advisor Summit
March 20 -21, 2017 Orlando, FL
Functional Medicine
Institute for Functional Medicine
March 13 – 17, 2017 Huntington Beach, CA
(others in Washington, DC, Dallas, TX various dates)
Integrative Medicine
AIHM Academy of Integrative Health and Medicine
October 22 – 25, 2017 San Diego, CA
Lifestyle Medicine
American College of Lifestyle Medicine
October 22 -24, 2017 La Paloma, Tucson
Nutrition/Diet
Plant-Based Nutrition Healthcare Conference
September 24 – 27, 2017 Garden Grove, CA
Informatics/Electronic Medical Record
HIMMS* (largest informatics/EMR conference)
February 19 -23, 2017 Orlando, Florida
AMIA (smaller informatics/EMR conference)
November 4 – 8, 2017 Washington, DC
Physician Leadership
Amerian Association for Physician Leadership
Ongoing Institutes throughout the year
January, April, July, and November 2017
Coaching – Leadership, Wellness, Health, Lifestyle, Career, etc.
ICF International Coaches Federation Annual Conference
August 24 – 26, 2017 Washington, DC
Harvard Institute  of Coaching in Leadership and Healthcare
October 13 – 14, 2017 Boston, MA
Tips for getting the most out of a conference
Read the agenda in advance to assess your interest level
Bring business cards with your personal contact info
Pump yourself up to network and make connections
Join others for lunch and dinner – don't dine alone or hole up in your hotel room
Talk with vendors in the  Exhibitor Hall to find out about opportunities for doctors
Take notes on the people you network with & follow-up
Have fun!
Suggestions for additions to this list are welcome!
Here's to a great start to the New Year and a more fulfilling career!
Find what you're looking for: