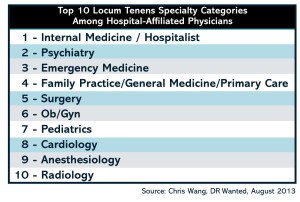 "What do you think about my doing some locums? Would that look bad on my CV?" I'm often asked this question, as many of my clients are redesigning their careers, and locum tenens offers flexibility, income, and a way to keep a stethoscope in the door. While my clients may like the idea in theory, some are skeptical. In addition to the career image concern, they have questions about the logistics and some have been burned by shady companies or recruiters. I have clients from diverse specialties doing locums, both short term and on a continual basis, who are happy with this option. And I hear stories from others about being courted by recruiters for a job, only to be dropped like a hot potato. Then there is the situation where the reality of the assignment is very different from what was advertised, and there you are, stuck.
Wanting to get a clearer picture, I interviewed experts from both sides: Dr. Lynette Charity is an anesthesiologist who has been doing locums for 14 years. Wendy Barton is senior director of subspecialties at CompHealth, where she has worked since 2008. I chose CompHealth because this company is one of the favorites among my clients who do locums, and I contracted with them when I had my dermatology practice.
I began with this question on the perception of physicians doing locums – are there negative connotations? Dr. Charity, who was in private practice as an anesthesiologist for 14 years before being recruited to do locums, was quick to reply, "In the past, I have been asked, 'Why can't you get a permanent job? Why would you go traveling all over the place if you didn't have to?' But that is the exception. I am asked repeatedly by surgeons and hospital staff to stay. I've been welcomed wherever I've gone – if you don't count what happened on one of my very early assignments. I showed up and introduced myself. The guy had a look of amazement on his face. He said, 'I am sorry, but our patients will not accept you.' They were not expecting a Black woman."
Dr. Charity does not linger on the short-sightedness (I'm biting my tongue here) of others. She knows what she wants and why. "Doing locums has given me the freedom of choice regarding WHEN, WHERE and HOW I practice medicine. I like the control I have over my time. When you are in a busy practice, someone else dictates what you do and how much time off you have. They call the shots. With locums, I am, 'The master of my fate and the captain of my soul'," she concludes, referencing the famous line by William Earnest Henley.
I asked Wendy Barton her experience on this issue of whether or not doctors who do locums are perceived as "less than" in some way. She said, "I can appreciate that 10 years ago, perhaps that was the perception of some locums physicians. That perception has drastically changed. It's rare to come across a physician or facility that hasn't either met a locums, worked with a locums side-by-side, or done locums themselves. Those interactions are debunking the myth that the locums physician were ever sub-par or that they couldn't find permanent jobs. Locums docs would ask the same thing of a permanent physician, 'Why would you be stuck in a permanent job when you could practice medicine where you want, when you want and how you want?' (sounds familiar!) Maybe you want to work all winter and play all summer – locums physicians can do that. What permanent physician can simply take an entire summer off if that's what they want to do?"
An often overlooked aspect of locums is the skills and experience a physician gains that can be referenced on a CV and to potential employers. Dr. Charity weighs in on this topic, "I have learned to adapt to many different environments: surgery centers, teaching hospitals, MD only anesthesiology practices, practices with nurse anesthetists under my supervision…I've had to adapt to different equipment, different personalities, all types of administrators. Patient populations can be so diverse too. In Minot, North Dakota, the patients are very hardy. They can have a laparoscopic gall bladder removal and get up and go milk the cows. Other patients may have to be on a morphine drip."
In another example of adapting, OB/GYN physician, Dr. Melissa Wolf describes her locums assignment at an Indian Reservation, "The locums job was quite unique because it was in a tiny town on a reservation in a 20 bed hospital. I was covering a midwife there for OB because the only doctor in the entire town went on a cruise. I had to do one c/section there with a surgical instrument set that was entirely unfamiliar and with no assistance, so that was good practice for Doctors Without Borders I guess. The funniest part was that there were no hotels in the town so they put me up in the nursing home about a block from the hospital. It had 1950s décor and my neighbor was 90 years old. It was a total adventure, but I'm glad I took the job." At the time of this writing, Dr. Wolf is leaving for her first assignment with Doctors without Borders in the South Sudan, where the maternal mortality rate is reportedly 1 in 7. Extreme locums??
If you have not done locums before, perhaps you're getting curious about the logistics. Wendy Barton patiently walked me through the entire process. I'll share the bare bones highlights:
Step One: Contact a recruiter to discuss your preferences and qualifications, i.e., short term vs. longer term assignment, location, how much you want to work, your availability, what procedures you do, etc.
Step Two: The recruiter shares possible options with you. You decide which ones you are willing to take.
Step Three: You are presented as a candidate to the client, along with other physician candidates. The client chooses which doctor is the best fit. If you're offered the job, it is understood you will take this assignment.
Step Four: Credentialing (everyone) and state licensing (if needed).
Step Five: Travel arrangements are finalized.
Step Six: You are on your way!
The process can take some time, especially if hospital privileges and state licensing is necessary. CompHealth has specialized teams to help their doctors through every step, including travel arrangements. Getting organized with all of your professional documents and being responsive to requests for information can speed the process and avoid delays.
Knowing the process is one thing; you may wisely ask, "How do I know what it's really going to be like?"
Dr. Charity offers some advice, "First you need to speak with physicians who are doing locums. Ask the agency if they can put you in touch with someone who has done this job before. If you only look at the money and don't find out the terms, you could be in a situation you don't want to be in. You don't necessarily get full disclosure from the company. The companies, and even the recruiters within a company can be competing with each other. We have a network of anesthesiologists who do locums and we give each other the insider scoop about jobs."
Dr. Charity adds that it can be trial and error to find a good company and a recruiter you work well with. She has had a good experience with CompHealth and currently works with Medical Doctor Associates.  Both of these companies are members of an organization called NALTO, the National Association of Locum Tenens Organizations. The purpose of NALTO is to provide a foundation of industry standards and ethical guidelines for companies specializing in locum tenens. There is an arbitration process with NALTO, should a physician ever have an issue with a locums agency.
Wendy Barton confirmed that they would be able to connect interested physicians with their peers who have done locums. She added, "We also sometimes have experienced locums physicians request this when going into a longer term assignment. If there was a locums at the facility prior to them, they can get feedback so they have good expectations when they arrive."
Ready to pack your bags and have an adventure? If you have any thoughts about locums, it never hurts to call around and get more information. Who knows where the conversation might lead. You may be taking next summer off…..or be heading to the Sudan!