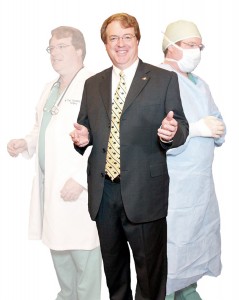 Recently I attended SEAK's Non-Clinical Careers Conference for physicians. I wanted to do some reconnaissance for clients and get a firsthand impression of the value of this program.
I'm sitting with over 200 physicians, enjoying the continental breakfast and waiting for the conference to begin. I can't help but overhear two doctors sitting behind me:
"So what specialty are you in?"
"Radiology".
"Radiology! What's the matter with you? What are you doing here? You guys have it good."
I never heard his reply, but apparently the radiologist had his reasons and was in good company. Later, I ran into a whole group of radiologists who were bonding together during a break. As I know from my own experience, having what is considered a "cush" lifestyle and a good income is not all there is to being satisfied in one's career.
I met doctors from a wide range of specialties. Some had tried different things to find a happier fit in medicine: doing a fellowship or a even a second residency, giving up OB due to high malpractice, or taking time off to consider options.
Some attendees were medical students, others were in the middle of internship or residency. And a few looked like retirement could be a option, but there still was a desire to work and try something new.
Over the two-day conference, there were excellent presentations from physicians employed in a variety of non-clinical sectors:
• Pharma
• Marketing and Communications
• Media and Medical Writing
• Consulting
• Finance
• Health Care Administration
• Government
• Life Insurance
• Medical Devices
One of the more popular features of the conference was the chance, if you were quick enough, to sign up for 15 minute private sessions with employers and mentors. Some recruiters were actually conducting mini-interviews.
Highpoints of this conference:
The overall high quality of the speakers. Serious subject matter, but lots of great humor. The keynote speaker, Dr. Tray Dunaway (photo), surprised us all by breaking into song and doing an amazing split second transition from suit to scrubs, and that was just the beginning.
Detailed coverage of different job possibilities, from who would be a good candidate, to salary, lifestyle and opportunities for advancement.
The chance to meet with other physicians and hear their stories.
The opportunity to speak with employers and mentors.
What could make it even better:
A 2 ½ or 3 day conference.
An option for attending more of the presentations. Because the 18 breakout sessions were conducted 2 at a time, attendees missed half of these offerings.
More slots to speak with employers to meet the demand (Plans are in the works by SEAK to have more employers next year).
More time for networking with colleagues, mentors and recruiters.
Who should attend?

I recommend the SEAK Non-Clinical Careers Seminar for physicians who are wanting more information on a part or full time career outside of clinical medicine.
At $1,295 for 2 days, the cost is substantial. However, the physicians I spoke with seemed to feel
the conference was worth the investment of time and money.
Next year's conference will be in the Fall of 2011. Check SEAK's website in approximately one month for date and location, as well as other courses offered for physicians.
Disclosure. I have no personal or financial affiliations with SEAK.
Find what you're looking for: