If you're considering leaving medicine, you may be wondering if there's right way to leave?
Should I line up a job before quitting, or can I just get leave?
Is it OK to take some time off or do I need to get that job NOW?
Is it selling out to take a job I don't love?
It's a big deal to be at the career crossroads. You're making some major decisions and you want to get it right. But dang, your crystal ball is in the shop, again, just when you need it.
When are they coming out with a rubberized version?
Don't worry, crystal ball notwithstanding, today I'm going to share with you a powerful approach to making the right decisions in your career and life in general.
Finding a new job, not to mention a new career, is inherently stressful, even in the best of circumstances.
Job hunting often brings up worries about not having transferable skills, concerns about loss of income, and the valid question,
Will I be happy in a different job?
If you've been let go, there can also be feelings of shame and low self-esteem.
If you're exhausted and working so hard you don't have time to job search, you may feel trapped.
There are a lot of emotions at play in a career change, or any big change for that matter.
When we have a challenge to address, whether we consciously realize it or not, we're coming from a place of fear or trust.

We are somewhere "along the spectrum" of:
Fear-Based Thinking <——————–> Trust-Based Thinking
Decisions made from fear-based thinking take us away from our true self and limit our potential.
Decisions made from trust-based thinking connect us with our true self and align us with the path of our highest potential.
Below is a table differentiating fear-based thinking versus trust-based thinking for two different scenarios: looking for a job and taking time off.
How do you know if you're making a decision from fear-based or trust based thinking?
Trust-based decisions give you a sense of peace and aliveness, even in challenging situations, as they open the door to possibility and potential.
Fear-based decisions give you a sense false security and an underlying feeling of selling yourself short.
Since you know by now, I love simple drawings as a way to capture two different states, I have a sketch to share with you. This one was done by Dr. Jenny. She is currently excited to be exploring a new potential career direction.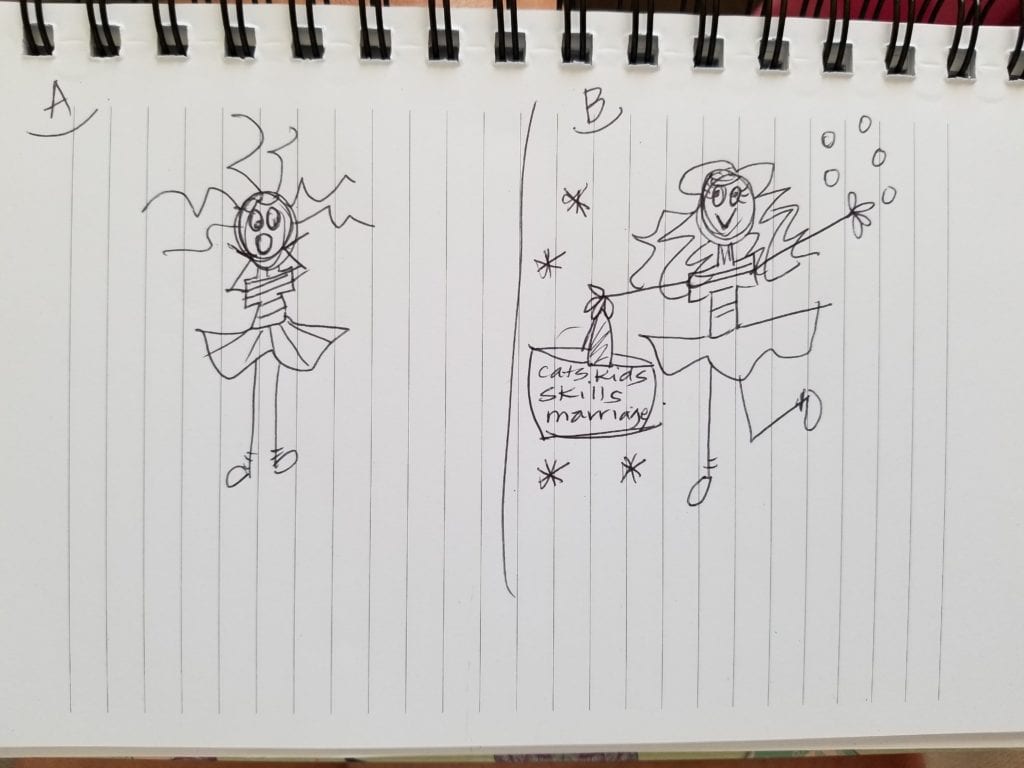 On side A is her fear-based self. When she's anxious, she gets the hives and feels prickly like her hair is standing on end. She doubts she can truly find a job where she uses her creativity, writing abilities, clinical expertise, and marketing talents and be paid well for her work.
On side B she is successfully juggling the balls in the air. She is super happy and energized because she is able to use her creativity and skills in her work. Her work is meaningful and valued, making the rest of her life great and glittery (as indicated by the stars around her well-organized and fashionable bag).
It's helpful to draw a picture because so you can externalize these two different states in yourself.
If you make decisions from side A, this energy is very contracted and tends to keep you "playing small" in your life. When we are in this mode, we focus on the problems.
If you make decisions from side B, this energy is very expansive and takes you in the direction of your highest self and true potential. When we are in this mode we focus on the possibilities.
The right direction is the direction is the direction of trust in self.
Fear traps, trust transforms.
What fear are you facing that trusting in yourself could transform?
I made up a simple 10-minute exercise you can do to for any issue or challenge your facing to separate out your fear-based thinking and trust based-thinking.
At the end of the exercise, I have a recording of myself doing the exercise for each perspective.
You may have seen this exercise before, But the recordings are a new addition. Click here for the exercise and audio.
I'd love to hear how the exercise works for you and see any drawings you'd like to send me!
I'll be back soon!
Heather
Find what you're looking for: