With the New Year upon us, now is a great time to look into any conferences you'd like to attend in 2013.  If you're considering a non-clinical career direction, here is a selection of conferences with different learning and networking opportunities. Note that you can save money on some by registering early.
10th Annual Physician Advisor Summit
Date & Location: March 21-22, 2013, Orlando, FL
*Discount before January 18th
Focus:  Physician Advisor Role
Description: Recommended for physicians who are interested in becoming a physician advisor or learning more about this position.  Emphasis is on physician advisors working in-house for hospitals and managed care organizations.
HIMSS Annual Conference  (Healthcare Informatics and Management Systems Society)
Date & Location:  March 3- 7, 2013, New Orleans, LA
*Discount before February 4th.
Focus: Medical Informatics, Electronic Medical Records
Description: The largest annual conference on medical informatics in the US.  Physician IT Symposium. Exhibition hall with representatives from a large number of EMR companies.
Harvard Medical Writing Course
Date and Location: March 14 – 16, 2013, Cambridge, MA
Focus:  Publishing and Medical Writing
Description: CME course for those wanting to publish information for either consumers or professionals, or both.  Will provide tools and techniques for publishing in various venues including books, magazines, newspapers, blogs, patient brochures, mobile apps, etc.
American Medical Writers Conference
Date and Location: November 6-9, 2013, Columbus, OH
Focus: Medical Writing, Networking
Description: Speakers, panels, and workshops on all areas of medical writing.  Networking with physician and non-physician medical writers.  Information on medical writing courses.
DIA Drug Information Association
Date & Location: June 23 -27, 2013, Boston, MA
Focus: Pharma
Description: Large multidisciplinary conference covering all major areas of the pharmaceutical industry, such as drug safety, regulatory affairs, marketing, clinical trials, research, etc. Will provide a "crash course" in all things pharma.
American College of Executive Physicians (ACPE)
Date & Location: April 26-30, 2013, New York City, NY
Discount before February 22nd
Focus: Physician leadership
Description: Interact with physician executives from around the world. Attend seminars and workshops on topics such as management, negotiations, leadership, finance and communications.
SEAK Non-Clinical Careers for Physicians
Date & Location:  October 19 -20, 2013, Chicago IL
Focus:  For physicians, resident-physicians, and medical students considering a non-clinical careers.
Description: Two-day seminar on non-clinical careers for physicians.  Wide variety of speakers  and mentors from many of the non-clinical areas.  Recruiters.  Preconference workshops.  See the SEAK website for other non-clinical workshops.
Perhaps instead of (or in addition to) a non-clinical conference you'd like to take time to explore a long lost interest or go on a retreat.  There are many programs that combine various offerings such as writing, art, music, dance, yoga, meditation, outdoor activities, etc. with ample downtime, great food and a beautiful location.  I don't know anyone who couldn't use some rest and relaxation and a chance to flex some different muscles.   Doing a Google search on your area of interest plus "retreat" or "workshop" will usually result in a variety of options.  Good luck and feel free to share your impressions from any conferences you attend.
Find what you're looking for: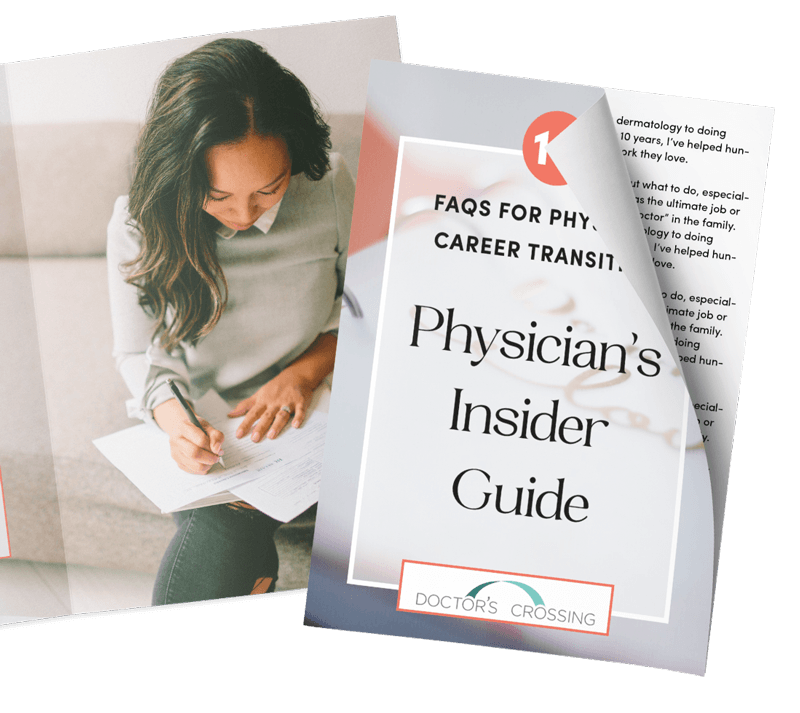 The Physician's Insider Guide
15 of the most common FAQs on physician career transition
Sign up below to get the resource to jump-start your career transformation! You will also receive the latest blogs and updates from Heather.