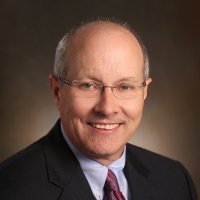 Before his career transition, you were likely to find Dr. Dale Ray intubating a patient, running a meeting, or mentoring a resident. Now, in his new role working for the ACGME (American College of Graduate Medical Education), odds are you will find him on an airplane. Dr. Ray worked for many years as an emergency medicine attending, oversaw graduate medical education, and had several different roles in hospital administration. Now he travels all over the country on a weekly basis to offer feedback to the hospitals and medical centers that train the nation's residents and fellows.
In this interview, Dr. Ray talks about his non-clinical career as Field Representative for the ACGME. He has been in this position for almost 3 years, and in spite of the heavy travel, is very happy with his choice. He would like to let other physicians know that for the right individual with a background in graduate medical education, there are opportunities in this area.
HF: What kind of work are you doing for the ACGME? (Accreditation Council for Graduate Medical Education)
Dr. Ray: I work as a field representative for the Clinical Learning Environment Review (CLER) program. Our team visits teaching hospitals and provides formative observational feedback on the learning environment. We provide the assessment through six focus areas, including patient safety. Through a series of group and individual meetings, including with members of the C-suite, we seek answers regarding the infrastructure of the clinical learning environment, the integration of Graduate Medical Education (GME) within the hospital and its activities, and the engagement of residents and fellows. With these efforts we hope to assist the individual sites to improve patient care and GME, as well as help move forward patient care and GME on a national level.
HF: Can you describe a typical week for you?
Dr. Ray: Monday is a travel and prep day. We visit a hospital or medical center Tuesday and Wednesday (and sometimes Thursday), then return home either Wednesday evening or Thursday late afternoon. Thursday and Friday we are writing up our visit report and preparing for any upcoming visits, as well as participating with any team meetings.
HF: How do you do your site assessments?
Dr. Ray: We initially have separate group interviews with the GME leadership, the senior leadership team, and the patient safety and quality improvement teams. We have a series of group interviews with residents and fellows, faculty members, and program directors. We also make walking rounds where we talk to nurses and residents on the floors and units about the clinical learning environment and patient care.
Depending on the size of the institution, we may have a second series of interviews with the physician groups. We provide a report to senior leadership based on what we have learned in six focus areas: patient safety, quality improvement, transitions of care, supervision, fatigue management, and professionalism. Our approach is unique in that our feedback is not tied to standards or citations. Rather it is observational and formative, allowing the site to process and adopt the information provided. It is our desire that the site find components of the report valuable to help them on their patient care and graduate medical education endeavors. Although some may interpret what we do as consultants, we are different in that we are not there to give advice or recommendations. In many ways, reflective feedback to an organization may be seen as more powerful. I think it is safe to say that my teammates and I look at this as a collaborative effort between the CLER program and the sites we visit.
The reports we put together are confidential, as they deal with the institution's priorities and patient safety issues. They are generally about 17-20 pages, and most sites acknowledge the thoroughness of our work. Many say that the reports provide value for their own work and internal assessment. Receiving this type of feedback is a significant component to my job satisfaction.
Lastly, as I mentioned, our work serves to help inform on a national level, both with data collection and by affecting patient care and physician training
HF: How much do you work in a week?
Dr. Ray: I have never sat down and counted, and some of the work hours are travel related. I would estimate 50 plus hours per week. One of the positives is that I do not have unending piles of work. The work is pretty well defined. I do not have 80 emails to answer every day nor never-ending projects to complete. I know when my work is done. There is some work on the weekend, but generally not a lot. I will probably work an hour today (it was Sunday).
HF: What were you doing before you transitioned?
Dr. Ray: I was practicing emergency medicine. I was 20% clinical before I transitioned to this position, as I had increasing administrative responsibility inside the health system where I was employed. I was Medical Director and Operations Director for a transfer center, Medical Director over our healthcare disparities unit, and had GME responsibilities. I had some other roles working with the Chief Strategy Officer.
HF: Did you have prior experience in Graduate Medical Education (GME) before your current position?
Dr. Ray: I was a core faculty member, followed by being the Associate Program Director, and then was Program Director. I was then recruited and assumed other roles outside of the residency program. Soon after I left GME (Graduate Medical Education), I realized how much I liked GME and the people, both at the local as well as national level. As educators, we want to work together and have helper personality traits. I liked the atmosphere in GME. I like the teaching aspects and helping residents evolve. I would have stayed in the Program Director role longer, but I was recruited to other roles, which I accepted as I thought it was a career step.
HF: What other areas did you consider before you took this job with the ACGME?
Dr. Ray. When I considered what I wanted to do next in my career, I was open to a wide variety of opportunities. To be honest, I was quite uncertain as to my path. My search started organically, looking into different roles in hospital systems, both in my institution and elsewhere where I had conversations about leadership and physician executive roles. However, I did not identify the right fit. For me, that included considering the management component of the job, and the individuals I may be managing. The wrong mix can be very challenging. I was also looking for something unique, as well as meaningful, where I can have an impact on healthcare. Ultimately, I was uncertain and was not finding the right fit in this leadership direction. There was no reason for me to foolishly rush into a position, so I kept looking.
HF: Were you burned out when you started looking?
Dr. Ray: I wound not say that I was burned out, but circumstances left me open for a change. I could have stayed where I was for the near to mid-range future, but life circumstances made me think that if I was ever going to make a change, this was the right time period. I could have returned to practicing clinically full time, but balancing clinical with other activities had always been important to me.
The topic of burnout is very important to the ACGME, the CLER program and our individual team members. It is prevalent amongst physicians. It is an issue the CLER program is investigating, and hopefully we can provide information to help address burnout. It is one thing if one pursues non-clinical options because of personal interests; it is another if individuals, who are good clinicians, leave clinical medicine because of being burned out. We need to do what we can to preserve their careers.
HF: What do you enjoy about your work for the ACGME?
Dr. Ray: I think we are making a difference in patient care. I also hope I am helping to improve physician training. I enjoy the people within GME; they are collaborative and want to do the right thing. In nearly all circumstances, we receive feedback from the site that they think our activities will positively influence the work they perform. In addition, I have frequent moments to do some teaching with the residents and fellows, and it is especially gratifying when you see a light bulb go off with regard to patient safety and concepts and ways they can improve their care. Perhaps we have inspired a few to consider work in patient safety and quality improvement as their professional focus. I meet many great people, and it has been reinvigorating.
It is also a learning adventure for me. Even though I was fairly well versed in medicine, I have made tremendous knowledge gains in areas of medicine I knew nothing about. This has been intellectually satisfying. Lastly, I enjoy my team members and our staff at the ACGME; they all have levels of expertise, competence, reliability, and emotional intelligence.
HF: What is challenging about your job?
Dr. Ray: One challenging consideration for people is the travel. You have to be at a point in your life where those in your life understand and accept that you will be gone two to four days most weeks. You have to be practical and thoughtful (before considering this position) that you can do the travel. You can live anywhere you want, as long as you can get to an airport. Between site visits and other activities, I travel about forty-five times a year.
Beyond the travel, one needs to be flexible and adaptable to potential changes in circumstances. On nearly every visit, some unpredictable event occurs, and one needs to roll with it.
HF: What makes you especially suited for this kind of work?
Dr. Ray: I am comfortable speaking with CEO's and other senior leadership. I have worked enough in the C-suite that I understand their perspectives. I am also pretty curious and inquisitive, and this job is a new learning experience each week. I think this improves my performance and keeps the job interesting.
HF: Is there anything you wish you'd known ahead of time?
Dr. Ray: There was a fair amount of disclosure from the ACGME about the position and by myself about what my professional needs and goals were. It was a big professional leap for me, so they wanted me to know if I could make this commitment. I joined the team early on, so there were a few "if I had known that" type of considerations that had to be worked on as the program matured. For anyone who is considering a big transition to a different role, I would recommend they ask detailed questions about a wide variety of scenarios and the day-to-day work. I would also recommend a contingency plan – no one takes a position that they think will not work out, but it is good to have a plan B just in case.
HF: Do you still do any clinical practice?
Dr. Ray: I gave it up in July. Part of my plan B was continuing clinical practice. I practiced two years after joining the ACGME. I was the last holdout of the full-time CLER field staff to maintain clinical activity. I gave it up because my wife and I were moving to a different state, but even if we had stayed, it was not fair for me to be traveling during the week, and then to work clinically on the weekend. Primarily it was not fair for home life, but sometimes it was a long week for me personally. In addition, with the limited amount I was working clinically, it was getting increasingly difficult to keep up with the new processes, technology, EMR demands, documentation requirements, and compliance work. At the time I left I was working clinically about 16 – 24 hours a month. It seemed I was spending at least half that amount of time with all the non-clinical activities related to work. I do miss some parts of the work, especially the "great cases" and working with residents. The job I currently have fulfills a number of those needs. I required a slow wean.
HF: How has the job change impacted your personal and family life?
Dr. Ray: Even though I have a heavy travel schedule, much of the work I do at home I can accommodate on a flexible schedule. Therefore, I can make time for my wife, my home activities, and myself. Since I can travel from most any airport, it has allowed us to relocate and try a new life adventure. If this does not work out here, we can try somewhere else.
HF: How long did your career transition take?
Dr. Ray: Once I decided I would be willing to leave my current position and organization, it took me about two years to find the right fit.
HF: Who would be a good candidate for this kind of job – both experience and specialty wise? Are there any openings?
Dr. Ray: GME experience is necessary, as is a knowledge of patient safety, as well as having a broad range of knowledge and experience across our six focus areas. Some visits you are in charge and some you support the lead, so you need to be able to switch back and forth from being a leader to a follower. Although gratifying, the visits are demanding and you must have a level of emotional and physical stamina. You have to have some resilience to deal with both travel challenges and if an issue were to arise at a site. In addition, understanding the challenges to and the pressures on health care systems will help you do the job effectively. With regard to clinical experience, we have a wide range of generalists and specialists. In fact, having a diversity of specialties adds to the richness of the teams.
Currently, we do have an opening and we have periodic full-time and part-time openings as the program grows. These will be posted on the ACGME website.
HF: What are the different ways one can obtain GME experience?
Dr. Ray: It's essential, and core to the job. Current team members have been head of GME at their institution, a program director, or Chief Medical Officer. We have not had any team members who served as only either Chief Quality or Safety Officers without a formal GME role, but I suppose there may be circumstances where that may be considered. Conversely, someone with GME experience without knowledge of patient safety or quality would probably not be a competitive candidate. It is not a job for a 31-year-old, as you need to have a breadth of experience. Most people are in their late 40's through early 60's.
HF: Any advice for other doctors considering a career change?
Dr. Ray: First, magical thinking will not work. It takes time, effort, and commitment. Under any circumstances, it is important to be prepared, proactive, and patient, yet ready for an opportunity. I was in a position where I was valued and liked the people I worked with, so perhaps I had some advantages in that I wasn't jumping out of a frying pan. Coaching helps. It helped me both with clarity and to help sort out opportunities, what the marketplace of opportunities looks like, and to provide objectivity. It also may help you from simply jumping to next thing that is offered, without taking the long view. Coaching also played an important role in quickly eliminating a myriad of possibilities for which I was ultimately not fit. Regarding the objectivity, a coach should have a client's interests as their sole interest. Potentially free advice is worth exactly what it costs, and even though it may be given out in a well-meaning manner, I would be cautious. I would also not underestimate the need for financial preparation. If the right position for your happiness is one that requires a pay cut, golden handcuffs will make that transition challenging.
Thank for this great interview Dale!
Find what you're looking for: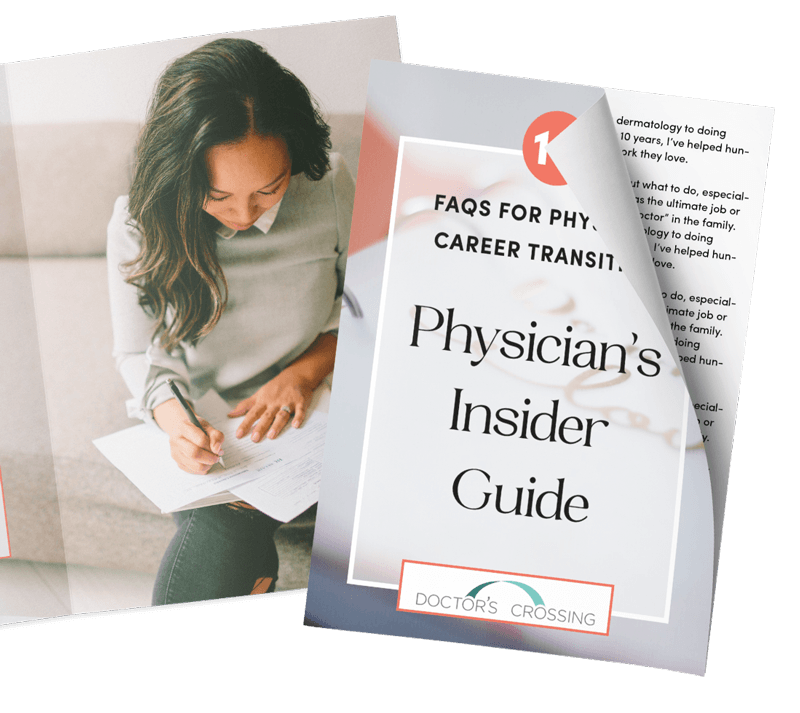 The Physician's Insider Guide
15 of the most common FAQs on physician career transition
Sign up below to get the resource to jump-start your career transformation! You will also receive the latest blogs and updates from Heather.