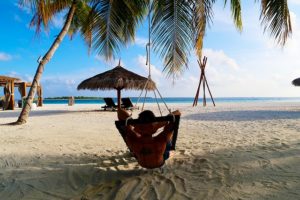 I've often wondered what it's like to go to a Caribbean medical school. On one hand, it sounds rather exotic, yet on the other hand, it seems rather risky. When I hear from offshore medical graduates who have over $300K in debt – and can't match into a residency, my heart sinks. With an average match rate of 54%, compared to a 94% match rate for US schools, this is not just a handful of individuals who fail to match. To learn more about the offshore path, and offer some advice to those contemplating this direction (or advising loved-ones), I interviewed my client who is a successful graduate of a major offshore school and a board-certified family physician. Please enjoy! (Dr. Andrew is not his real name).
Q: Can you share a first impression of your Caribbean School?
Dr. Andrew: When the plane landed on the island, I thought I had gone to Jurassic Park! There was one other student on the plane with me. He stepped off, looked around, and got right back on the plane. This third world island was not for him. For those expecting luxury hotels and a club med experience, this is not it. There are lizards that crawl up the walls, and when it rains hard, the tap water turns brown. The accommodations were acceptable to me, but may not be to someone like Paris Hilton looking for the latest Gucci shop. The students who were able to tough out the conditions became stronger. We became very close and I made lifelong friends whom I am still in touch with regularly.
Q: What was your class size? 
Dr. Andrew: We started with around 410 and by the time we progressed to the clinical rotations, we were down to about 270 students. Depending on the school, attrition rates can be as high as 40%. It was always heartbreaking to see a friend have to repeat a semester. Or even worse, see someone dismissed due to academic difficulty. It happens more in offshore medical schools than in US schools because you are in a group of people who had difficulty getting into a US school in the first place, in most cases. Offshore schools are a sink or swim environment (no pun intended?).
Q: How were your professors in the first two years?
Dr. Andrew: The professors are just like anywhere else you have been to school. There are really great professors, some who are acceptable, and then the ones that should be voted off the island. What is consistent though, is that most if not all the faculty have frequent office hours and are open to answering questions. The faculty in offshore schools are not obligated to pursue research and their main objective is teaching. You will even run into your favorite professors at a local restaurant or at the beach and become friends with them.
Q: How are the 3rd and 4th year rotations arranged?
Dr: Andrew: The rotations will likely be in the US, which is a big selling point of offshore medical schools, compared to most foreign graduates who do not have this experience. We were given a list of hospitals our school is affiliated with in the US. We were then placed at the sites we desired based on availability. A lot of students were moving around about every three to six months to different places. I was lucky and had great rotations for the most part, but at some hospitals, the students were more observers and may not have had the chance to document much in the chart.
Q: Did you encounter any hurricanes?
Dr. Andrew: There was one large hurricane during my time on the island. I decided not to evacuate to the shelter and rode out the hurricane. It was really rough – there were reports of looting, no reliable plumbing, or backup power.
Q: What specialties do graduates match in?
Dr. Andrew: Most students match in primary care specialties such as family medicine, internal medicine, and pediatrics. When you look at the match lists you will also see some placements in psychiatry, emergency medicine, surgery, anesthesiology, and OB/Gyn. There are the rare ones, such as orthopedic surgery, radiology, and ophthalmology, etc, but they are rare and often go to students with USMLE scores over 250.
Q: What advice would you give to those considering an offshore medical school?
Dr. Andrew: 
Do your research and select one of the better schools such as St. Georges, Ross or AUC. Look at the school's track record for residency placement. There are over 60 Caribbean schools, but there are only 5 schools recognized in all of the 50 states. If for example you are from California, but you go to a school they don't approve of, you would not be able to rotate in California as a student, do a residency there, or even practice there later on. Check with your medical board for a list of approved or disapproved schools.
Make sure the clinical rotations are done in the US.
Understand the tuition and expenses. Schools receiving Title IV federal funding must disclose specific financial information. Here are some statistics from the Ross University Site:
Typical Debt $309,508
Typical Monthly Loan Payment $3,561
Typical Interest Rate 6.8%
Typical Graduate Earnings $155,442
Do whatever it takes to learn the material and perform well on your rotations and licensing exams. The single most disqualifying factor in the residency application process is a failure of one of the USMLE Step exams. There are programs that will take an applicant with a low score on one attempt over someone who failed once and did very well on the second attempt.
Lastly, if you do not see yourself being happy practicing in a generalist specialty, you may want to think twice about going to an offshore school. If it's ophthalmology or bust, you might end up miserable, and with a ton of debt.
But if being a doctor is a long-held dream and the US doors are closed to you, an offshore school could be your ticket. Just do your research, rock your exams and rotations, and don't hang around for the Hurricanes.
Thank you very much for sharing your experience, Dr. Andrew.
Find what you're looking for: